LEDs Are Coming
In 2004, LEDs were on the way, as I said for
Visual Impact
magazine. By now, of course, they are here, and neon has slunk out the back door. The article might be all right, but I don't know about that layout…
________
Fremont Street, Las Vegas: scene of a five-block-long, hourly video show; a multimillion-fluorescent-bulb spectacular designed to compete with the renowned Strip around the corner.
Until recently.
The fluoros are no more – ripped out and replaced – at US$17m expense – by 12.5 million LED lamps, providing 4.1 million pixels and nearly 17 million colours, endlessly rotating shows, live action and animation. It will also, not that it matters in Vegas, cost significantly less to maintain.
Heading deeper into the 21st century, there is every chance LEDs will be to the lighting and visual display industry what fibre optics promised to be, but wasn't.
The light-emitting diode has been in existence since the mid 1970s and available in three colours since the 1980s. Today, it is available in all the colours you want, at the brightness you want, for any use you want. And the price is dropping fast.
As a lighting medium, LED is now a viable alternative to white neon tubes or fluorescent lamps in retail areas, restaurants, nightclubs, cinema chains – and, progressively, living areas. It is also increasingly used in fixed signage and architectural features – large and small – where previously neon would have been the first and only choice.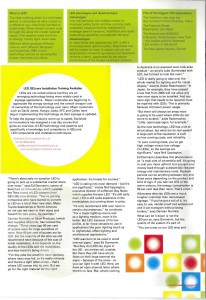 Such is the flexibility of the medium that LED's use in information display is equally – if not more – established. It is now very likely that a moving sign or advertisement, video wall display, scoreboard or airport information screen, from scrolling single-line alpha-numeric displays to full-colour and even 3D, will use LED as its lighting source.
The applications of LED are mind-boggling and growing all the time: a projected three-dimensional image with a 120-degree view zone and several seconds of animation is closer to reality than science fiction. As Volker Rademacher, CEO at LSA Smartlite (which supplies the DuraLed LED system), says, "If I don't see a technological change every two weeks, I get concerned!"
For fixed signage, the industry medium that feels most under threat from LED is neon. Neon has been the medium of choice for signs for nearly a hundred years. There seems no doubt that LED will take some market share, but opinions obviously vary as to how much.
"There's absolutely no question LED is going to pick up a substantial market share over neon," says Ed Darmanin, owner of Switched on Innovations, which supplies GE's GELcore system. "You've got big companies who have started to convert to LED on a lot of their new sites. Every Toyota dealership in North America does not use neon and hasn't for two years, for example."
Damian Normile, at Neon Products, (which also supplies GELcore), has noticed the change. "Three years ago 80 per cent of quotes were for large quantities of neon. Now 80 per cent of quotes are for LED. But the majority of the time we still recommend neon because of the cost of initial installation. A lot depends on the quality of the LEDs and the installation, and how hard it's being driven.
"For tiny jobs too small for neon sections, where neon may fail, or it's really intricate and there's a tight letter-stroke – that's where LED comes into its own. But we go for the right material for the right application. It's horses for courses."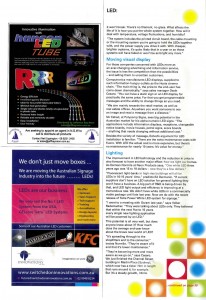 "LED is eating into neon demand – but it's not significant," insists Neil Uppington, executive director of Jefferson Bay Neon, which supplies Hansen LED. "It's still early days. LED is still quite expensive in the marketplace, but coming down in price.
"I'd only recommend LED over neon in certain circumstances," he continues. "For a major lighting source and as a lighting medium, neon is far better. But LED, because of its low profile, is far more versatile to use in applications like poor lighting [such as in nightclubs], effect lighting and architectural applications."
"LED was born to be used in small internal signs," says Ed Darmanin. "But they do [LED] sky signs in the US – six metres tall, outside. But there they still have acrylic faces on their large external sky signs – because of the snow – so you can light it with LED. Here, we have an open-channel letter where there's no face. But, what's coming to Australia is an exposed neon look-alike product – an acrylic tube illuminated with LED, but formed to look like neon."
"LED is really going to take over the whole market for lighting and for visual display," asserts Volker Rademacher. "In Japan, for example, they have passed a law that from 2006 will not allow any new neon signs to be installed. And any neon sign that needs to be repaired must be repaired with LEDs. This is primarily because of [lower] power usage.
"But there will always be areas neon is going to be used where LEDs do not come to scratch," adds Rademacher. "Little, open-case signs, for example."
As the new technology, LED has a lot to shout about, but what are its real assets? A large part of the reputation is built on low running costs, and reliability.
"In pure running costs, you've got high voltage versus low voltage [in LEDs], so the savings are significant," says Neil Uppington.
Ed Darmanin describes this phenomenon as "a total cost of ownership sell. It's going to cost you more upfront, but you get your money back through substantially reduced energy and maintenance costs. Payback period is anything between one and three-quarters of a year depending on the product and kind of sign. If you talk red LED or the warm colours, the energy consumption is 80 per cent less than neon. That's a fact."
Advocates also say LEDs are a much tougher customer than neon-based signage. "If you've got a roll of it, it's easy to use, vandal-proof and waterproof and it can transport without being broken," says Damian Normile.
What can let it down is not the LED per se, says Darmanin, but the quality of the system it's part of.
"You can jump on the LED chip and it won't break. There's no filament, no glass. What affects the life of it is how you put the whole system together. How will it deal with temperature, voltage fluctuations, power regulations and humidity?
"The system includes the printed circuit board, the cable mounting or the mounting system you're going to hold the LED together with, and the power supply you drive it with. With cheaper, brighter systems, it's quite likely that in a year or so those systems will have failed or won't be as bright any more."
________
Moving visual display
For those companies concerned with LEDs more as an ever-changing advertising and information service, the issue is less the competition than the possibilities – and selling them to uncertain customers.
Computronics manufactures LED displays, supplied to such information-hungry outlets as the Hoyts cinema chain. "The main thing is, the price to the end-user has come down dramatically," says sales manager Ossie Cesaro. "You can have a static sign or an LED display for practically the same price. For that you get programmable messages and the ability to change things as you need.
"We aim mainly towards the retail market, as well as real estate offices. Anywhere you want someone to see an image and read a message from a distance."
Nir Eshed, at Polycomp Signs, sees big potential in the Australian market for his alpha-numeric LED signs. "The applications include information displays, receptions, changeable notice boards, movie houses, petrol signs, score boards – anything that needs changing without additional cost."
Besides the variety of message, Eshed's argument for LED installation is familiar: "There are the extra maintenance costs with fluoro. With LED the actual cost is more expensive, but there's no maintenance for nearly 10 years. It's value for money."
________
Lighting
The improvement in LED technology and the reduction in price is also forecast to have another major effect: how we light our homes. As Damian Normile at Neon Products says, "One white LED three years ago was 15 to 18 dollars – now they're a few dollars."
"Fluorescent light-banks in high-rise buildings will all be LEDs in 10-15 years' time," predicts Ed Darmanin. "If guys like Osram don't have an LED solution for general lighting they won't have a business. A big part of R&D is being driven by that, and LED light output and efficiency is improving at a tremendous rate. We didn't have white LEDs in a commercially viable package until late last year. Now we do."
"I went to a meeting with Osram last year," says Volker Rademacher. "They were talking about LEDs only. They believed that within the next five to 10 years every single new lighting application will be powered by an LED."
This potential is all very well, but does anyone know about it? How much does the average end-user know about the brave new world of LED?
"It's spreading through to the shopfitters and to the consumer," insists Normile. "They're aware of it and that it's lower maintenance."
"They're becoming more and more aware as we go on," says Cesaro. We just finished the Channel Seven building in Martin Place [Sydney], which now has a ticker 70m in length that runs around it, for example. But it's a steady growth, I think. Australia's got the same problem with any product, which is population. There are only so many people who can use a specific type of sign."
"It's a tough sell," admits Donna Blackwood, marketing manager at Adaptive Components. "Our main customers are still in the manufacturing industry. People love them and say they want them in their newsagency, for example. But when we give them a price they're a little shocked. Plus, those who are older are not so comfortable with the technology."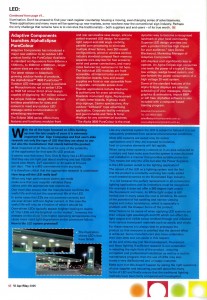 "A lot of people will still have the view that it's expensive and complicated," says Volker Rademacher. "And unfortunately there are products around that are complicated to use. We get a lot of neon companies coming to us who are a bit concerned. But once they get into it they realise how easy and simple [our system] is."
"There's a fair bit of ignorance out there as to what LEDs can do," says Neil Uppington at Jefferson Bay Neon, who sounds a significant note of caution. "I don't think people really know what an LED is, because the technology is still new.
"Now [some] LED signs at airports are changing to plasma. Plasma is relatively new, but it's been more widely accepted than LEDs have because it's something that sits in people's lounge room and they are aware of it. They know what its capabilities are, although there are problems with it – the burning sensation on the screen, for example."
For fixed signage, the issue is and remains neon, and the fact that some LED suppliers are neon experts branching out. Darmanin contends many LED suppliers are doing the technology – and the end-user – a disservice by failing to properly understand it. "If they can build something that's cheaper, they will, and a lot of people will buy the cheapest thing because they don't understand what they're getting.
"Some of the early LED suppliers in Australia didn't do the industry a service at all because of a problem with the systems. There was a single point of failure. The LEDs were on printed circuit boards in series parallel, like Christmas tree lights: if one went out, they all went out. The other thing that kills LEDs is not having a regulated power supply, and a lot of systems only use basic transformers."
Those wondering what the future holds need look no further than the United States, where opinions vary only on how far ahead their adoption is of LED. Ed Darmanin: "At Visual Impact '04, there was only one LED stand. At the International Sign Association Show in the US in '01, there were five LED stands; last year there were 30. Australia is three years behind the US, at least."
Donna Blackwood goes even further: "Australia is 10 years behind the States, in various technologies – not just LED signs. I think people [in Australia] probably can't see the value in them. They are using these signs in a lot of different applications we aren't here: schools, banks, even churches."
"In America it's well used," agrees Normile. "Architects and specifiers have taken to LED and the major chain stores are going for it."
"I would say, within Australia, within three years, 80 per cent of all signs will be LED," predicts Rademacher.
And don't forget Las Vegas, of course. This technology is not exclusive to electronic displays and video wall monitors. It's in traffic lights, clocks, jukeboxes, car taillights, video displays and POP illumination. Don't be amazed to find your cash register countertop housing a moving, ever-changing series of advertisements. These applications and many more will be opening up new markets, some nowhere near the conventional sign industry.
Perhaps the only challenge that remains here is to convince the traditionalists – both suppliers and end-users – of its true worth.
________
What is LED?
The light-emitting diode is a solid-state device. It comprises an alloy crystal in a reflective cup, chemically bonded to small wires. When electric current runs through the wires the crystal material reacts. This reaction takes the form of energy: mostly light, some heat.
Different alloys produce different colours, with different life-spans and brightness. R&D on the technology centres on sourcing the proper chemicals and alloys.
________
LED advantages and disadvantages
Advantages:
Low maintenance; low voltage means an improved safety factor and low running costs; versatility; programmability; resistance to breakage; ease of transport, installation and repair; networking capability; considerable life-span
Disadvantages:
In most forms and applications, LED is still a more expensive upfront option. Brightness may still be beaten by neon in certain colours and applications; consumer ignorance and resistance remains a factor, aggravated by the poorer performance of the cheaper available systems
________
Five of the biggest LED applications
The Vodafone sign atop the San-ai Dream Centre Building, Tokyo
The Fremont Street Experience, Las Vegas
The Reuters and NASDAQ billboards, Times Square, New York – the largest publicly displayed LED screens in the world
The blue Qwest beacon, Denver
________
See this as PDFs: