Fantastic Plastics
My take on the state of plastic signs in about 2004, for
Visual Impact
magazine. No doubt things have moved on rather a lot since then.
________
On the face of it, the industry of plastic visual display is a relatively quiet one, where change happens gradually and innovation takes the form of evolution rather than revolution. But whether those in the industry know it or not, change is happening all around them, prompted by both internal and external forces.
Gary Hansen is Victoria state manager for York Precision Plastics, who supply imported acrylic sheet to sign writers and fabrication companies. Hansen says stability is the watchword: "The product is proven and people are happy with it. We do a lot of colour-matching for customers, and that's where a lot of development comes from."
York's CEO, Chris Salmon, says simple economics have created stability. "Look at building and construction across the board – not just signage – structures and materials are cheaper than they used to be, so a lot of the materials have been around for 20-30 years, especially plastics."
Historically, the key issues facing a plastic sign maker are "how long will it last?" and "how impact-resistant is it?" Over the years, some acrylics have reacted less well to being outside: the sun's UV rays, not to mention pollution, upset them and make them degrade.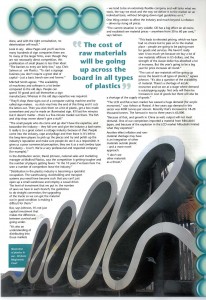 But customers have demanded – and got – longer-lasting, more durable signs, that are easier to maintain. Cast acrylic, formed between sheets of glass, is good for forming and moulding; more durable extruded-acrylic comes out of its extruder with its molecules all in a line.
A walk through any town will reveal streetscapes very different from those 20 years ago: shop fronts, service stations; car showrooms; even buildings themselves are locations of constant, sometimes barely detectable, change.
"The product life-cycle demanded is not as long as it used to be," asserts Chris Salmon. "If you were doing a sign 20 years ago, they'd want it for 20 years. Now it's in the vicinity of five to 10 years. The demand has mirrored the materials that go into it."
"With the application of digitally produced graphics it becomes a less-expensive option to change a sign," agrees Johnson. "It tends to polarise the substrates a little bit. For the signs designed to be up for a long time there's the technology to produce a sign that will last longer and still maintain the looks and appearance. But there's also a group of products where the substrate is designed for a short life and the graphic on it is going to get changed. Instead of having a large number of products that are fairly interchangeable, you have a premium grade."
At the forefront of much that is new is undoubtedly the Albert Smith Group. They do not, you will note, make signs, but offer "external branding solutions". If there is innovation at all within this industry, it is demanded by Albert Smith's high-paying corporate customers and satisfied by the company's impressive R&D facility.
"Branding these days is not just a sign – it's an architectural statement," says the group's general manager Mitchell Smith. "Like building cladding; like those BP service stations with the green bull-nose; like Peugeot with their blue buildings.
"Branding has much more focus than it used to be. It has taken on a new dimension. This started in the late '80s and continues to evolve. We just did a massive statue – a sculpture – out the front of the Federal Magistrates Court, because a statement needed to be made."
With the demand, and the financial means, Smith says the company scours the world for new materials; a major new plastic brand might come onto the market once a year. "In the old days there were only polycarbonates. UV stability has played a big part. Some of the vinyls we're getting with the coatings over the top last 20 years – 10 years ago that was unheard of. The impact-resistance of a lot of the translucent substrates we use, like acrylics and cycloids, has increased a lot – because of demand."
One unwelcome legend hanging around the industry is that thermoforming – the moulding of acrylic into a desired shape – leads to a more fragile, brittle material. Jim Ashton, sales manager at established sheet-importer Plastral, is keen to kick this into touch: "Not true at all. It's a myth. We offer a 10-year guarantee [on thermoformed acrylic signage] – but manufacturers have to use it according to the recommendations. You get some cowboys that don't thermoform it at the right temperatures, or they use shortcuts that can cause problems in the material. But properly done, and with the right consultation, no deterioration will result."
 Look in any Yellow Pages and you'll see how many hundreds of sign companies there are. To many of the larger firms, even though they are not necessarily direct competition, this proliferation of small players is less than ideal. "The barriers to entry are fairly low," says Chris Salmon at York Plastics. "To start a signage business you don't require a great deal of capital – just a basic bench-saw and former."
Mitchell Smith agrees. "The availability of machinery and software is a lot better compared to the old days. People can spend 10 grand and call themselves a sign manufacturer. Whereas in the old days expertise was required.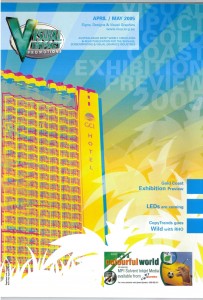 "They'll chop these signs out of a computer cutting machine and be called sign makers. You stick vinyl into the end of this thing and it cuts the letters out. Then you stick them on a bit of plastic, get a box made somewhere and you've made an illuminated sign. It'll last five minutes but it doesn't matter – there is a five-minute market out there. The fish and chip shop owner doesn't give a stuff.
"The small people who do come and go don't have the expertise, and bastardise the industry – they fall over and give the industry a bad name. It really is to a great extent a cottage industry because of that. People come into the industry, rape and pillage and then leave it. It's left to the long-term players to pick up the pieces and try and polish up the industry's reputation and make sure people do see it as a responsible. It gives us a poor commercial perception; they see it as a real cowboy type of industry – it isn't. We're a very professional and respected company [for example]."
In the distribution sector, David Johnson, national sales and marketing manager at Mulford Plastics, says the competition is getting tougher and the number of players getting fewer. "In the 10 years I've been here I've seen a number of competitors leave the industry.
"Distribution in the plastics industry is becoming a specialist occupation. The warehousing, stockholding and transport systems you need have become such that you can't just open up a small warehouse and employ a casual driver. The level of investment that we put in: the number of saws we have in each branch; the guillotines to do straight conversion; the upgrading of the trucks so we can get the material out in good condition is making it difficult for them."
But, says Johnson, it's not just capital investment that makes the difference between survival and going under.
"It's also an understanding of distributing into those markets – we tend to be an extremely flexible company and will tailor what we stock, the way we stock and the way we deliver it to the market on an individual basis, without bringing down rigid guidelines on it."
 ________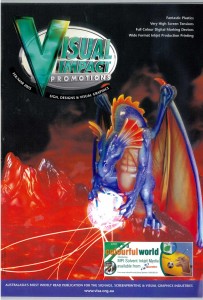 One thing certain to affect the industry and much beyond is inflation – driven by rising oil prices.
"The current situation is very volatile. Oil has a big effect on all resins and escalated raw material prices – anywhere from 30 to 60 per cent," says Salmon.
"This leads to elevated pricing, which we have had no choice but to pass on to the market place – people are going to be paying more for goods and services. We haven't really seen it too much yet because we buy a lot of raw materials offshore in US dollars, and the strength of the Aussie dollar has absorbed a lot of increases. But next year's going to be a big year for price increases all round.
"The cost of raw materials will be going up across the board in all types of plastics," agrees Johnson. "It's also a question of the availability of material. There's a shortage of acrylic monomer and we are at a stage where demand is outstripping supply. Not only will there be increases in cost of goods but there will also be a shortage of the supply of goods."
The LCD and flat-screen market has caused a huge demand [for acrylic monomer]," says Ashton at Plastral. A few years ago demand in this sector was 4000 tonnes per annum. Recently that's increased to 18-20 thousand tonnes. The forecast in two to three years is 65,000.
"Because of that, and growth in China as well, output will not meet demand. One of our competitors imported a material from Mitsubishi Japan, and because of the explosion in the LCD market Mitsubishi limited what they exported."
Another effect inflation and raw-material shortage may have is an integration of other materials outside plastic – and a more novel approach.
"I don't see other materials as a threat," says Mulford's David Johnson. I see them more as complimenting each other. If the cost of plastic goes up to an absurd point you'll start to get designers saying, 'Okay, maybe we can use a section of this in metal or timber to allow for different pricing.' That's probably a healthy thing because maybe designers will be able to get a little bit more creative.
"The only threat I see is if everyone got stuck in a mind-set where all you're using for your displays and signage next year is what you used last year and the year before. Then people get bored of them. If you have designers and so on constantly striving to use different materials and different applications of those materials, what you'll have is the end-user going around and picking up the ideas from other people."
This may be, but as Salmon says, in most cases, plastic remains the best option. "The good thing about materials is the ideal material for the application is usually used. If weatherability and UV protection is required, then usually it's an acrylic, for instance. If you need rigidity, you'll use a more rigid material. The major sign companies are very diligent – they use the right material for the application."
Leaving aside the inevitable fluctuations from the economy, what does the future hold for plastic visual display?
"If you look at the proliferation of signs, especially new areas where there are more fast-food outlets, more service stations, you'll see there's a big proliferation of tall pylon signs," says Salmon. "I'm not sure, in a developing society, how long that can continue – where people will be allowed to whack up signs of that magnitude. So a lot of the pressures won't come from anything revolutionary within the industry, but from societal pressures."
Jim Ashton's crystal ball is more technology based: "We're in the throws of introducing a Plexiglas range of "TruLED" sheet, which has been made especially for LED lighting, to match the wavelength of LED colours," he says "That's a small innovation because the conventional way of sign lighting is just with fluoros from behind, or flex-face panels.
"Another product that could develop into a reasonable size is edge-lighting acrylic, which is a specific grade that has unique characteristics regarding light-scattering – it's particularly good for the edge-lit signage sector."
David Johnson has a more pragmatic prediction: "There will be an increased reliance on the information channels between suppliers and customers: making sure the customer has an understanding of where their product is at any period of time. If you look at business, the most valuable resource is time. If you can provide a consistent product, consistent delivery service and consistent pricing – that's where I see it going."
To Mitchell Smith, of industry innovators Albert Smith, the final words: "There's going to be a rationalisation of the industry. Times are getting tougher and only the toughest will survive. A few more people will fall over.
"As far as the products go – they will continue to evolve, particularly in the lighting medium. Lighting will play a major part as LEDs and alternate lighting mediums take a real grip. We're just scratching the surface. Fluorescent tubes inside commercial lighting applications will disappear. And exposed lighting will change a fair bit until… who knows? There may soon be three-dimensional figurines dancing in front of buildings to project brands, where previously it was the building cladding. Demand will drive it that way."
________
See this as PDFs: