The Natural
Alpha
was a sports magazine, featuring sports stars. Occasionally this wandered into left-field territory, as with natural bodybuilder
Taesha
, in 2009. Not sure if it helped or hampered readership, but, you know. Nice girl. Photographer was
Jason Cole
.
________
Ah, bodybuilders: grimacing twists of gristle, strapped into superhero suits, dipped in gravy and planted on stage to play "I'm a little teapot" with their veins out. But look at these photos. Like the difference, yes?
Twenty-year-old, two-time Australian champion Taesha Bundalo is your warm welcome to the softer, healthier world of natural bodybuilding, where the emphasis, especially for the female side, is less on turning yourself into a Panzer tank, and there are definitely no chemicals allowed.
What is natural bodybuilding?
It's not so much bodybuilding. Well, it is, but it's the female side to it. What I do is "sports model"; it's body sculpting. Off-season I train five days a week; on-season, when I'm getting ready for a competition, I train seven days a week. I do cardio morning and night and sometimes through the day as well. It depends how much weight I need to lose.
Where's the veins and the crazy shoulders?
It's not so much looking huge; what I do is modelling on stage, with tone and not much body fat – more feminine than bodybuilding.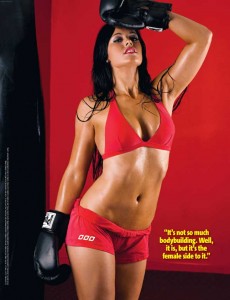 Natural means no drugs?
No, it's all natural. The only thing I take is vitamins. I'm part of an international series. In Australia it's called WNBF; overseas, the one I compete in is INBF.
Why did you get into this?
I left school at a young age and didn't really have anything I wanted to do. Mum was trying to lose weight, so I went to the gym and tried it out a bit. Once I'd started I never looked back – I loved it. I went every day. I love training and want to get to the top. I just want to be someone everyone knows. I want to be out there.
Do you like performing and being on stage?
Yeah, I love the stage. I think because I train that hard, when I go on stage I just want to show all the hard work. I just love it. I think I'm a very confident person. I just like to show everyone who I am and what I do.
What categories do you compete in?
In most federations it's called sports model. But in the federation I'm in it's called "best body, best bikini".
What other categories are there?
There's "figure", there's "ladies bodybuilding" –  with more muscle and a lot stricter with losing weight; they're a lot bigger, more vascular, more veins. I want to stay feminine, look like a girl. I want to make my body the best I can, look as good as possible.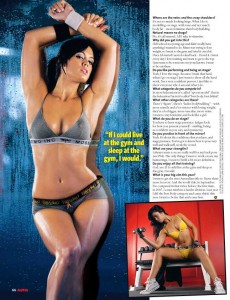 What do you do on stage?
You have to have stage presence; judges look for how you present yourself – smiling, being as confident as you can; symmetry; I do quarter turns – so you turn to the front, both sides and to your back. Then they call us all back on stage, so we're all together and they tell us who the winner is.
Do you practise in front of the mirror?
Yeah. It's about the confidence that you have, and stage presence. You've got to know how to pose very well and walk well, work the crowd. It's not just about being on stage. It's the whole package.
There's a big health and fitness element to this, isn't there?
Yes, looking good on the outside and feeling good on the inside.
What are your strengths?
My strongest point is my back – I always seem to score really well for my back pose. The only thing that I want to work on – it hasn't been a problem but I want to improve – are my hamstrings. I want to build a bit more definition there.
Do you enjoy all that training?
God, yes. If I could live at the gym and sleep at the gym, I would.
What's an average week for you?
I'm doing part-time modelling work, and soon I'll be starting my real estate course to get my license. In about two weeks I'll be starting my dieting, which gets very strict about a month before I compete. I'll be eating about six times a day, drinking three litres a day and hitting the gym seven days a week, two hours every night. I do cardio 1.5 hrs in the morning and about 40 minutes at night.  The cardio's all different – boxing, the treadmill, running, cycling. Anything that gets my heart-rate up to lose that extra weight. I take Sunday off every second week to take a breather.
What is your big aim this year?
I want to get the next Australian title so I have three years in a row. And the world title, in September. I've competed in that twice before; the first time, in 2007, I came ninth because I was in a harder division. Last year I did the Best Body category, and came third; this year I want to better that and come first.
________
See this as PDFs: