Making a Splash
A short chat with two divers at North Sydney's Olympic pool, just before the
2009 World Swimming Championships
, where they both managed top-10 finishes. Written for
Alpha
magazine. Photographer was
Jason Cole
.
________
This month, in among the Ashes, the footy, the tennis, Le Tour… The World Swimming Championships in Rome is also trying to get our attention. And we should pay attention, because it represents the first major meet for many of our Olympians, including divers Alex Croak and Sharleen Stratton.
For Alex, now the oldest member of the team at a veteran 25, those dives into Rome's outdoor pool are the chance to make a few amends for a mixed experience in Beijing. "The Olympics was a very… Interesting experience. In the preliminary I did a personal best and came fourth behind the three eventual medallists – two Chinese and one Canadian. And then the next morning I did a personal worst. A PB to a PW, and cried for two days. In the semi-final I finished 18th. I missed four of my five dives; I had a completely shocking morning. One of those days."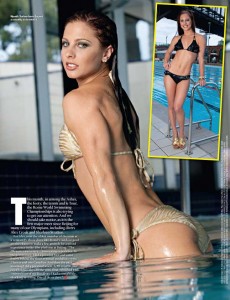 Alex, as we discovered in Alpha's Olympics special issue, is Australia's only competitor at different Olympics in different disciplines, having been at Sydney as a gymnast. Upset as she was by Beijing, she had the tools to pull out of it and move on. "As soon as I knew I wasn't going to make the final, it was helpful, because it made me decide that I was going to stay on for the next four years to dive and redeem myself and do well at the next Olympics. It helped me set new goals straightway. I grow from each experience and have different strategies to try to make it work."
At the World Championships, Alex will compete in her favourite 10m platform, with the 1m springboard thrown in as a side bet. "I feel pretty good. I've had a couple of good performances in national championships and in Mexico. If I hit my dives there's no reason why I can't medal. But it's the same for all the girls on platform – whoever nails their five dives is a great chance of winning. My degree of difficulty is up there with the top divers in the world, so it's just whether or not I perform."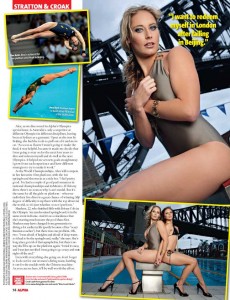 Sharleen Stratton, 22, who finished fifth with Briony Cole in the Olympic 3m synchronised springboard, is in the same event in Rome. And it's no coincidence that she's starting much nearer the pool than Alex. Sharleen may have changed from gymnastics to diving a lot earlier in life (partly because of her "scary Russian coaches"), but there was one problem. OK, two. "I was afraid of heights and afraid of deep water, so it had to be the springboard, really," she says. She's long since got rid of that aquaphobia, but there's no way she'll be up on the platform again. "I tried it once, and I was just terrified I was going to go crazy and run right off the end."
Even with everything else going on, don't forget to look out for our women's diving team, battling it out for the medals with the Chinese machine. As you can see here, it'll be well worth the effort.
________
See this as PDFs: