Harry Who?
A most peculiar piece, with an odd origin, although one that doesn't necessarily encourage you to read it. Invited to a Nike event in Germany, I was allowed to ask one question – one – of
Ronaldo
, the original, classic, Brazilian version. I asked two and they got rather cross with me. The 
Alpha
editor wanted a feature written on the basis of those two questions, to big-up his 2006 World Cup special. This is the result. It was an interesting exercise, but it's as fragile as a provincial Chinese tower block. The photographer is Gregg Porteous.
________
Ronaldo smiles and shakes his head. "I think you came to test my knowledge of football," he tells Alpha. "Of all the Australian players, I (only) know the one that plays for Osasuna." (That'll be John Aloisi, our Uruguay penalty shootout hero.)
He has not heard of Harry Kewell. He has not heard of Mark Viduka. Nor Tim Cahill or Brett Emerton or Lucas Neill. What about our goalkeepers, Mark Schwarzer (who plays for Middlesborough) and AC Milan's Zeljko Kalac? No, to both.
When Aloisi's penalty slammed past Uruguay's Fabian Carini, it opened the door to the only truly global sport: an intimidating arena of skill, glamour, saturation media coverage and ridiculous fame.
But Australia's presence at the World Cup means nothing to Ronaldo, the Brazilian genius. For a player of Ronaldo's calibre, there are 30 other countries with their Kewells and Vidukas, their brave heroes and their magic men at this World Cup. At least he's heard of Australia.
"The strength of the Australian team is going to be the head coach (Guus Hiddink), who has taken teams to a lot of tournaments – quarter-finals and beyond – he has a lot of experience. With this kind of coach you will be a hard team," he says politely.
_________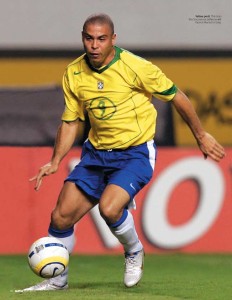 The Brazilian is speaking to Alpha in Munich, after the launch of a Nike boot he believes will make him even faster than he already is. He's in diplomatic mode when we ask him about his knowledge of the Socceroos. The truth is, he has no knowledge of our team and is only able to identify Aloisi from Osasuna, but he is unable to recall his name. We in Australia may think we have made it to the big-time, but that doesn't mean the big-timers have heard of us.
Whether Ronaldo has heard of Kewell or not matters little for the rest of our interview, because the man has done everything in football, and when he speaks he's worth listening to. He has been part of Real Madrid's weird malfunctioning "dream team", the Galacticos, for so long, his unique individual worth is camouflaged. Indeed, he's been famous most of his life; a feature of the skyline like the Empire State Building.
The young Ronaldo, with his pneumatic build, ferocious speed and sleight of foot, was a freak in the same way Jonah Lomu was: a whole pack of Super Trump players in one body. He was nurtured at PSV Eindhoven then Barcelona by ex-England manager Bobby Robson. Ronaldo, Robson noted, "had everything" – although his heading needed a bit of work. When Ronaldo dropped a shoulder and swung a huge thigh past the last defender, it was all over, the man was gone. The goalkeeper left to his fate.
Ronaldo's own fate has been a jumble in recent years. As Sonny Bill Williams is discovering, a boy driving a man's body puts huge strain on the joints. Ronaldo's knees couldn't cope with the rest of his legs and disintegrated. A steady World Cup in France '98 was infamously wiped out by his bewildered performance in the final, as France took Brazil apart. In Japan and Korea '02, he was immaculate, devastating and victorious. He is thrice world player of the year and enters Germany '06 still only 29, the World Cup holder and, with 12 goals, the third-highest scorer in the tournament's history alongside Pele. Three more and he's out on his own.
His weight and fitness have always been questioned (The Guardian newspaper in England recently described him as the "large-boned non-trier") and his near-undroppable Galactico status has given the impression that he doesn't rouse himself for every game, that he can coast through large parts of the season and turn it on for special occasions. Real Madrid's Champion's League exit at the hands of Arsenal, however – big nights by any standard – featured 180 minutes of Ronaldo anonymity, and drew further accusations about his weight.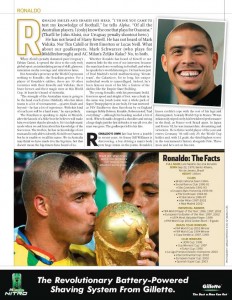 The striker has spent a large part of the season under fire from fans about his form and fitness; a far cry from 2000, when despite the fact Ronaldo was absent through injury, his name was often chanted from the stands. What seems clear is that form and fan-disaffection are now feeding each other. "All I want is for people to treat me with respect and that is not happening," he complained recently. "I am not saving myself for the World Cup. I want to do a lot to arrive in Germany full of confidence. I want to rediscover my happiness. I have always said that I don't want to be where I'm not loved."
The fact that he scored for Brazil in a mid-week win over Russia before finding no place in the Real squad that weekend, is a clear example of the Ronaldo conundrum. In contrast to many players, he seems to find his best form and enthusiasm playing for his country rather than his club. He has scored an astounding 57 goals in 90 games for Brazil. Perhaps Ronaldo, whose English has never approached fluent despite years in Europe, is more comfortable on the pitch surrounded by his compatriots .
Another reason for Ronaldo's wild form fluctuations could be his chaotic personal life. In 1999, in a match made for sporting heaven, he married Brazil's best female footballer, Milene Domingues, also the world "keepy-uppy" record-holder (55,187 touches in 9.06 hours). They had a son, Ronald, but divorced after four years. Flings with other models were followed by marriage to Brazilian MTV VJ Daniella Cicarelli. Within three months she had become pregnant, miscarried, and the couple divorced. No wonder he can't concentrate on scoring goals.
________
But in the flesh, it is hard to see any evidence of his troubles, or reasons for the fans' discontent. He looks honed: a sleek, bull-necked, gentle-eyed assassin. The image of the world-class athlete still at the height of his career. Is this the kind of man who's going to worry about H Kewell of Merseyside and Sydney? No, it isn't.
Which is not to say he's going to give anything away. Asked for tips from the high table for one of the least-experienced teams, he damn well smiles again. "There is no key to success that I can give you. Each national team will try to eliminate the others. And as far as Australia is concerned, even if I had a clue, I would not give it to you."
Isn't there any feeling in Brazil about the match Australians have been shouting about for months?
"Australia are not used to playing in World Cups, but we try to respect all of our opponents, because in football you cannot say you are definitively better than the others."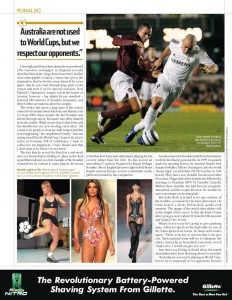 Perhaps not, but with Brazil, you can make a good case. Ronaldo talks like a man well aware history awaits him. But even if he makes it to Germany uninjured, for the first time in 10 years his place is not guaranteed. The current world-best player is Barcelona's Ronaldinho, whose every game is a masterclass in technique, vision and enthusiasm. The dark horse is "the Tank" – Adriano of Inter Milan, a giant, intimidating striker in irresistible form – while the unknown is Robinho. Just 22, and the latest unhelpfully dubbed the "next Pele" by Pele himself, Robinho is another star prised from his natural environment by Real Madrid's money and hurried into the team. The skinny kid with his slippery runs and dazzling step-overs could be everything, or nothing. But none of it is designed to help Ronaldo sleep well at night.
In his favour are his performances for his country. He played in 15 of Brazil's World Cup qualifying matches, and with 10 goals was his country's (and the South American group's) top scorer. They include the hat-trick of penalties he both won and scored in the 3-1 victory against Argentina. His goals-to-games ratio is amazing – in the 2002 World Cup he scored in every match except the one against England. He is almost certain to play a large part in Germany.
"It will be a great team because there's a lot of competition," he states carefully. "We have a very large population where everybody loves football, so there's a lot of great players trying to make the national team. Brazil right now has one of the best teams that we have ever assembled."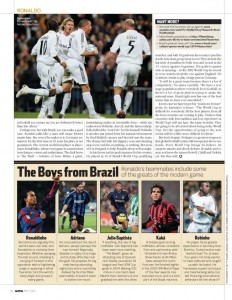 Just in case we haven't got his "minnows beware" point, he hammers it home. "The World Cup is difficult for everybody: all the best players from all the best countries are coming to play. I believe that countries with less tradition and less experience in World Cups will not have the same benefits. They are going to be all excited about being at the World Cup, but the opportunities of going to the next round will be a little more difficult for them."
But don't despair. Perhaps our greatest weapon is that global football's radar still sweeps just above our heads. Every World Cup brings its bolters, its surprise attacks and shock defeats. Ronaldo and co may not know the names Kewell, Cahill and Viduka yet. But they will.
________
See this as PDFs: