Sore Boozer
In about 2003 I went to the Brisbane Beer Festival for a lads' mag (
Ralph
) and tried to drink every beer there in three days. I wish there was some way to fancy that up a bit, but there isn't. It turned out fine, and the photographer was Brisbane's finest Welshman,
Mick Richards
. It's not his fault the art director drew comedy glasses on me.
________
Friday
In front of me on the bar is a beer. In the usual sequence of events I pick up the glass, raise it to my lips and tip, experience a moment of pleasure as the liquid surfs over my tongue, and swallow. I like it. Which is good. In the next three evenings I have to drink another 149 of them.
The National Festival of Beers is at the city's RNA Showgrounds, in and around the cattle sheds next to the main arena. The smell of hops mingles strangely with that of livestock.
It's a drinker's paradise. The actual number of different beers available changes depending on who I talk to, but there are bars everywhere. In one, the band Andy Had a Brick are on stage doing covers. The lead singer has asked for requests. "Not Metallica," he says. "We're not doing that." "Pub With No Beer," shouts a bloke with a jug of the stuff to himself.
Behind the bars are rafts of glasses and walls of jugs. The names of the beers on offer are scrawled on blackboards or scribbled on bits of paper and stuck onto beer taps. Beer tickets are available for $3 each. That first beer, a full-flavoured Tenterfield Saddler from the Queensland Brewery of the same name, is followed by a Coopers Pale Ale with a pleasant aftertaste. Good start.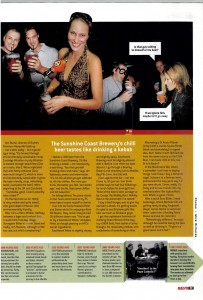 Two guys stand looking at their beers instead of drinking them. Gavin and Steven are beer enthusiasts. I know this because even though they are in their late 30s, they dress like people who say they're "insane". Stephen, for example, chose this evening to wear a red shirt, multicoloured tie, silly hat and huge glasses.
"We've been here in previous years so there's a lot we won't try," says Steven. "There was one that tasted like cloves one year."
"I like Tennents Draught," says Gavin. "It's got a mellow taste, a nice rounded sort of a flavour."
I've got 148 beers left to drink.
I have a VB, which is a lot like other VBs I've had. I order a XXXX and knock it back. Burping quietly, I try another bar, up on a grassed area. It looks like it should be selling food, but there's just beer. Food stalls are tucked way over at the back, so they don't get in the way of the drinking.
Beez Neez is served by a good-looking barmaid in a white top. She's the best part of the whole experience, especially as it's a cold evening. The beer is anonymous, sort of like watered down lemon squash. People around me like it a lot, but I feel the kind of confidence in my opinion that comes from complete ignorance.
Feeling reckless, I order a Naked Ale from the same barmaid. It's not bad, but if it's an ale, it's wearing the trench coat and shades of a wheat beer. I drain the glass.
Further on is the main drinking area: a yawning stock shed with a long bar either side. At the far end is a stage leaking dry ice. The place is only half full but even this early my feet stick to the floor. Actually it might not be beer slops, but I don't want to think about that.
These are not fancy bars. Their only purpose is to transfer the liquid of choice to our grasping hands as quickly as possible. Over 20 barrel taps are rammed through holes behind the bartenders, with the names of the contents on the blackboard above.
I feed myself a ginger beer. It's delicious – just like soft ginger beer, only I can feel the alcohol sliding slyly down behind the ginger.
Resch's Draught is alright. It's got a interesting flavours and slightly sour finish. I'd probably have another one if I didn't have another 141 to be getting on with.
A tall bloke called Peter tells me he's already had 26 different beers. I can't believe my ears. I thought I was doing well on nine. "Must be about 26, " he says with the great care of someone who's had more than 10 beers. "And a couple of whiskies."
His mate Simon rocks up with a half-finished jug. "I dunno what this is but it tastes like something you'd do at the toilet." I expect he doesn't mean the Sun-Herald's quick crossword.
"We're homebrewers, right, and we drink an average of a keg a week – about 18 litres a week," says Simon. Peter sways and nods in agreement. "We've bought 50 dollars' worth of tickets each and we've nearly run out."
I hope they're not going to drive home. Simon's eyes pop out at the thought. "Ah shit, yeah," he laughs. "I've got the semi parked outside."
I order an Indian Chief Wheat and sink half the pot. Mmm – quite strong, I think. Malty. Cloudy. Sherbety. Maybe a hint of rubber glove. Perhaps a bit of washing-up liquid.
On stage a band called Indiana start playing inside the dry ice. The lead vocalist and lead guitar are two very spunky rock chicks. They happily thrash through a number no-one except themselves would ever recognise, as much of the sound disappears up into the high echoing roof.
Foster's Light Ice. Is there anything worse? The light version of a beer we fool dumb foreigners into taking off our hands. I take a cautious sip. The slight fizz is the only indication I'm drinking anything. I leave nine-tenths on the bar, having paid three dollars for it.
I make a discovery. Tucked behind the Stockman's Bar is the microbrewery room, full of interesting niche beers. The real difference here is the bartenders actually own and brew the stuff they serve, so they can tell me all about it. All.
Ben Burke, director of Burke's Premium Hemp Lager holds up, not a big foaming glass unfortunately, but some kind of gauze thing. "It's brewed through environmentally sustainable hemp. Most cartridge filtration or pulp filtration is brewed through wood fibre (Right. Give us a taste, then). We've replicated that with hemp cellulose (God, how much longer?), which is more environmentally sustainable. It gives the beer a lovely, crisp, refreshing taste (Aaarrgh, pass the beer, mate). We're currently exporting to the UK and Cambodia.
"Cambodia, good. Could I possibly have a beer?"
"Oh, yes."
It's the best one so far. Whatever he's up to with his filters clearly works. Hemp is very mellow and quite sweet, with good depth of flavour. And environmentally friendly.
Beer 14 is a Witbier from the Hahn stand. Halfway between a lager and a wheat beer, I could drink it all day long. No time now. Boag's Strongarm trickles down a treat: good and malty, rich flavours – too cold, but I'm not really complaining.
I tackle a chilli beer, brewed by the Sunshine Coast Brewery. It's like drinking a kebab, which is not necessarily a bad thing. "You find yourself drinking more and more of it," says Jim Robinson, owner and brewmaster, hopefully. "It's not the alcohol you get addicted to, it's the chillis. The more you drink the better you feel. Two weeks ago I had flu. Had some chillis and felt beautiful." I'm not sure I feel beautiful, but I have got a slight buzz on.
I'm falling behind. The place closes at midnight and I want to try at least 35 more beers to give myself a chance. Four hours left.
I run into the homebrewers Peter and Simon while I'm enjoying a Kent Old Brown. They reckon they've had 36 different beers now, but have got to be pulling it out their arse. "You've got to try a Southwark White," whispers Peter, as though passing on KFC's special secret ingredients. I nail the Kent and belly up to the bar.
Southwark White is slightly cloudy and slightly spicy. South Australian Brewery's must be slightly pleased with it. Before I can think too hard about it, I go through a Bootleg Pale Ale (a bit sherbety) and a Mathilda Bay Pils (erm, fine) as well.
I lean against the bar a bit. I don't have to, you understand, it's just so I can think. A big bloke in a red shirt tells me he had four Kilkennys for lunch before he even got here. "Most of the beer's been average so far. Except the Wobbly Boot. Wobbly Boot is the worst beer I've ever tasted."
I buy a lamb burger, just to give my stomach a break. In the grassed area a band who might or might not be called Gorgonzola are doing more covers. They aren't taking requests. It's getting busier. I'm glad to see Brisbane girls like beer as much as Brisbane guys.
I get the unpleasant business of drinking Swan Mid out of the way, make short work of a XXXX Gold, then tackle a Cairns Draught. It's reasonably mellow, with undertones of something or other.
Alternating a St Arnou Pilsner (clear and crisp) with a James Squire Porter (thick and choclatey) is a good idea. But I follow it up with Old dark Ale from the same source as the Chilli Beer, and I can taste chilli in this too. Or is it bacon? I can feel my insides organising a protest. I hope it doesn't get out of hand.
In the busy Stockman's Bar, where a comedian I can't see is saying things I can't hear, I front up to a Scharer's Lager. Scharer's is a German word, pronounced the way you have to say it if you're drunk. Clever, really. It's fruity and so raw it sinks into my wrecked palate like hydrochloric acid. Which is good. I think.
After a quick Emu Bitter, I head backstage in the main bar, where Bachelor Girl are getting ready to go on. Keyboard player James Roche is mildly surprised when I pass him a Bootleg Tom's Brown and ask for comment.
"Refreshingly different," he says, although he could be taking the piss as well as drinking it. "If you had more than a pint it would be a bit full-on. A good one to intersperse with a lighter lager. I'll give it a good seven and a half."
Vocalist Tania Doko is pacing around on her own, deep in concentration. I soon put a stop to that with a well-timed West End Draught. "Inoffensive," she pronounces. "I don't normally drink. I could drink all of this, but do you want me to be sane afterwards?"
Bachelor Girl have only knocked two beers off my list. I've got an hour and a half and 18 beers left if I'm to meet my quota of 50 by midnight. I tuck into a mild, creamy Cooper's Dark Ale, then nibble at a Toohey's New as a big crowd gathers by the stage.
New tastes unusually good. Compared to some of the junk I've strong-armed down my throat, a mainstream beer suddenly tastes like the professional product it is. To underline the point I have a Cooper's Sparkling Ale, which is sour and a bit like drinking bubble bath, and a Sunshine Coast Bitter like stale milk.
I'm now so pissed it's all I can do to get the beer I want, let alone remember what number it is. Beers 36 and 37 are optimistically passed over in favour of the more convenient 38. The Hahn Light is like drinking fizzy air. I leave half on the bar and try some Eumundi lager, then Sunshine Dark Ale, about which I notice a reddish tinge, but not much else.
I apparently drink a Tawny Ale, as well, but don't remember it. The bartender puts a Boag's Light in front of me. I don't want it. I drink it because it's a beer and that's what you do, but I don't want it.
I look at my watch, which probably says 12.20. Bachelor Girl have finished. I will too. I have to get home yet.
________
Saturday
On Saturday afternoon, with a greasy meal and several painkillers behind me, I'm almost able to think about drinking again. Richard Deery, of the Story Bridge Hotel, promoter of the Festival, says he's expecting 10,000 people today alone, and 20,000 overall.
"That's about 30 per cent improvement over previous years. It's because of the venue change and the entertainment bill."
I start out with a Redback. It's a beer I know and like, and I don't want to scare my liver too early.
I'm collared by a middle-aged Canadian bloke sat at a table. He has three beers lined up in front of him, a big straw hat and a voice like someone who enjoys the sound of it. "James Squire Pilsner is the hit of the show," he says so only half the bar can hear. "My second name is Jefferson and I'm a reprobate." He must practise in front of a mirror.
"Why do I like Pilsner so much? Why is one thing better than another? It's a philosophical question… " No it isn't, I interrupt. It's just a beer.
At the next table another guy called Steven is examining the reading on his breathalyser. "I'm not driving; I just want to see how far I can get up. The legal limit's point-oh-five and the furthest I've ever got is point-one."
How did you feel?
"Pretty shithouse." His mate Gavin blows hard into it and we look at the reading. It's blank. You're dead, I tell him.
In the microbrewery room, there's a stall for the Blowfly brewery that I'm sure wasn't there yesterday. It's like one of those magic shops that's vanished when you go back. But in reverse. The name puts bad thoughts in my mind. The beer tastes like there's crushed, well, blowflies in there. It's served by an extremely cute Irish girl, so I drink it all, just to make her happy.
I have a Boag's Premium that's excellent – crisp and pure – and a Shearers that's soapy and sour. I stand in line for more beer. It's three times busier than yesterday. The queues are eight-deep to the bar and everyone's carrying jugs. I fret that I won't be able to get through my quota, and start buying two pots at a time. Then three.
I glug down a smooth delicious Cascade Stout, a St Peters Amber Ruby Ale like medicine, and a Stella, which up till now I'd thought was Belgian, but who's counting? Oh, yes, I am. Number 52 (I think) is a Pale Blonde, which frankly, at three per cent, is crap.
The next few pots bring a James Squire that's nearly as good as Jefferson reckoned, and something called Carbine Stout that's so bad the barman doesn't want to sell it to me. James Squire India Pale Ale is described in the program notes as "rich and robust with the earthy, floral dry-hop character of fuggles hops," all of which I am just about to say myself.
I have a Lifesaver so nondescript it's like liquid amnesiac. I have a Yarra Valley Gold, which sounds like something you'd smoke in an Amsterdam coffee house, but isn't. I have two Boag's in a row to save time and they're both excellent.
By 8.20pm it's heaving. I try to go up the steps to the grassed area and get swept back down again, like a useless trout. It could get a bit aggro here. The place is full of lagered-up guys who can't walk without bumping into others. The nearest security guard looks about 12. His uniform was probably ironed by his mum.
I order a Toohey's Extra Dry. It's like finding an old friend in a place no-one ever goes. Hobart, for example. I think I can hear angels singing when I drink.
A Kilkenny Stout and Guinness cost me $6 each for a pot – double price "for premium beers" whatever the hell that means. As I'm wading through the Guinness a bloke whose name I forget tells me he's got the first Ralph right through to the last. His name might even have been Ralph.
I've drunk 72 beers and I'm not even half way there.
Behind the main stage Jimmy Barnes tells me he doesn't drink any more. Jimmy, I say, what are you talking about?
"I haven't had a drink in four months. You can get my daughter to review a beer if you want."
I offer his beautiful daughter Mahala a Gold Coast Queensland Black Ale and she takes a cautious sip. "I don't drink beer normally because I don't like the taste. I quite like this though – it's slightly different. I'd drink more. I might take it on stage with me." I feel warmed by this – like she's taking my photo on stage or something.
I get the feeling the organisers were not quite prepared for the large numbers of people who would turn up and require beer. The bar staff are run off their feet and – worse still – the beer itself starts to run out. I want a Cane Toad but I can't have one. They can't change the barrel because there is no barrel to change to.
In a panic I order a Nail Ale, Wineglass Bay Hazard Ale and a Quayle Ale and strive to make my cooked tastebuds tell them apart.
The portadunnies are set up in what might be a feed barn. I wait in line with a bladder like a beach ball and try to focus. There's a scrap of paper on the nearest wall. It's a picture of a really big bull with the rating "Rump –0.9" underneath it. Seems a bit cruel on the poor thing. A girl I don't see asks if I'm alright. My reply has been put in a blender before it comes out of my mouth.
In the main bar someone is screaming like a bastard. I realise it's that nice teetotaller Jimmy Barnes. I buy a Carlton Black and nurse it along like it's good whisky instead of bad beer. I'm halfway through a Black and Tan when I decide to go home. I've only had about 80 brews, but, you know, f-k it.
________
Sunday
The last thing I feel like on Sunday afternoon is a beer. I could go a fruit juice maybe. But not 50 beers. I take a deep breath and dive in.
I slug down a Masthead Tawny Black Ale before my body realises what's hit it, and pile into a Brewhouse Dark. But by the sweet Kanberra Kolsch I'm slowing up badly.
I keep going. Rivers of stout flow down my throat; endless ale; dam-bursts of draught. Yesterday I was running out of choices but today there are many more. To my horror some I haven't drunk may have gone forever, but every bar has barrelsful of new ones.
Raging Bull is 7.9%. It comes out of the tap like chocolate icing and goes down my throat like something you've shaved in. After about half I can feel my heartbeat slowing down.
The next, Robinson's Stout, is thick, creamy and smooth, but after Raging Bull it feels like a refreshing rain.
There are far fewer people here today, so at least I can get to the bar. In an hour I drink 13 beers. In the next, 17. By 8.30 bar staff are looking at me as if I'm stalking them. The Cruel Sea are due on, so I decide to give them a Wicked Vicar and Bootleg Raging Bull. They've run out of both. "But I need Wicked Vicar for Cruel Sea," I babble, pawing at the bar.
Pulling myself together I settle for a Sanctuary Cove Premium and Grand Ridge Moonlight. Backstage, Cruel Sea's Tex Perkins looks stoked I've brought him a beer. He dips his moustache into the Sanctuary Cove. "I like it. Flavoursome, but not too thick." He tries the Grand Ridge. "Don't like the flavours. Don't like the aftertaste. It's got a real front taste as well. And a side taste."
Everyone left in the place gathers at the main stage for Cruel Sea. Elsewhere, many of the bars are closing. A Leo Sayer track is playing, which really is cruel. I buy a Wobbly Boot that tastes like something's growing in it. The Brewer's IPA I give straight to the nearest bloke. "Tastes like varnish," he says. He must have once drunk varnish.
It's 11pm and I'm stuck on 122 beers. The others have slipped down the cracks somehow. I was too pissed to notice them or they've run out before I could get there. I sit on a bench near a darkened bar and crack open a can of Bundy and Coke. It tastes f-king brilliant.
________
The best five
Hemp Premium Ale
Boag's Strongarm
St Arnou St Cloud
Velvet Cream Stout
Brewhouse Wheat
The worst five
Blowfly
Wobbly Boot
Carbine Stout
Bulldog Pale Ale
St Peter's Amber Ruby Ale
________
See this as PDFs: