Friendly Fire
A 2006 chat for
Alpha
magazine with Australian cricket fast bowler
Brett Lee
, between the 2005 England
Ashes win
and the revenge of 2006-7, when Lee and his mates did awful things to England for a few long months. I talked to Lee a couple of times, and in the tradition of Aussie cricketers, he was polite and deliberately dull; in contrast to his onfield personality, which was often irritating.
________
And so it begins. After 14 months of theories, injuries, hype, anger, bluff, inaction and endless speculation, the most anticipated Ashes series of all time will explode, finally, into action. But for Brett Lee, Australia's unsheathed sword, it really begins a month previously, in Mumbai. Here, he sits in his hotel room, one man in a coastal city of 13 million, contemplating the revival of his life as a professional sportsman.
After a break of several months, during which time he got married, smelled the flowers and remembered how good life was, the suitcase lid is again tilted against the wall, and out spills pads, shoes and God knows what else. He is passing through on his way from practice (in preparation for the ICC Champions Trophy) to the treatment room: all the old routines that tell him it's back on. Cricket is back on.
It's funny how quickly sport gives and takes away. Lee, with his spiky blond hair and sharp, fox's grin, is now the image of the good aspects of Australian cricket. Hopes are pinned on him; he makes things happen. But it's easy to forget how things were before the last Ashes (more of that later), when Lee's routine consisted of carrying the drinks and hoping for the best. At that point, his expensive Test record saw him being used strictly as a one-day man. When the 2005 Ashes came around, says Lee, "I just had to make sure that when that chance arose, I was ready to go. I don't want to use clichés and all that type of stuff, but I really did want to make sure that I did take that opportunity and grab it with two hands."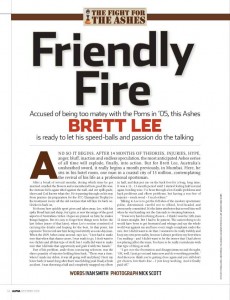 Part of his problem, aside from convincing selectors, was the sheer quantity of injuries holding him back. "There was a time, when I made my debut, it was all going well and [then] I hurt my lower back; it wasn't long after that I was fielding [and I had] a freak accident. I was throwing a ball and completely snapped my elbow in half, and that put me on the back foot for a long, long time.
It was a 12-, 13-month period until I started feeling half-normal again, bowling-wise. I've been through a lot of ankle problems and back problems and elbow problems, but having a run free of injuries – touch wood – I'm a lot fitter."
Talking to Lee is to get the full idea of the modern sportsman: polite, determined, careful not to offend, level-headed and awesomely committed. It's the latter attributes that served him well when he was handing out the Gatorade to sweating batsmen.
"It was very hard not being chosen – I think I was the 12th man 12 times straight. But I had to be patient. The easiest thing to do would have been to get frustrated and whinge and say the whole world was against me and have every single complaint under the sun, but I didn't want to do that. I wanted to be really bubbly and keep my own personality, because I always perform my best when I'm smiling – and I didn't want to let the issues that I had about not playing affect the team. You have to be really considerate with that type of thing as well.
"I got over the frustration and disappointment and thought,
'OK, well, I just go out and train now and do everything possible.' And then you think you're getting close again and you still don't get chosen, but that's fine – I just keep working. And it finally paid off."
________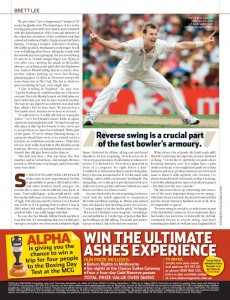 The pre-Ashes "Lee or Kasprowicz?" debate of '05 seems laughable now. The importance of Lee in the touring party grew with every match, and contrasted with the disintegration of the form and attitudes of the other key members of the confident unit that arrived at Heathrow (Clark's, Hayden's and Gilchrist's batting, Ponting's temper, Gillespie's bowling, McGrath's accident, Buchanan's mutterings). It's all very well talking about focus, taking the rough with the smooth and never giving up, but Lee is everything he says he is. Certain images linger: Lee, flying in over after over, carrying the attack in McGrath's absence; crouching on the pitch after the Edgbaston loss, Andrew Flintoff telling him he is a hero; slow-motion replays picking up every last flexing, grimacing piece of effort as Pietersen sweeps the series from view at The Oval. The fact is, Brett Lee gives everything he's got, every single time.
"I like bowling in England," he says now. "I prefer bowling in conditions that are a bit more overcast. But to be bluntly honest, we didn't play our best cricket last year and we have learnt from that. The way we can improve as cricketers is to deal with that, which I feel we have done. We haven't lost a Test match since, because we've been so focused.
"It really hurt us. It really affected us, losing the Ashes." Lee's level-headed nature kicks in again; experience has taught him well. "As much as anyone who plays at that top level wants to win, you've got to accept when you have been defeated. That's part of the game. If you're always blaming things, or saying we should have won, or we missed out by a run here, we could have won the series… That's fine but you don't really deal with it. [We should] accept it and say, 'We were, on this particular occasion, out-classed; they did play better cricket than us.'
"But that was then – that was those five Test matches, and we've lost those – fair enough. We have moved on. We became very hungry, and it's been the same since then."
________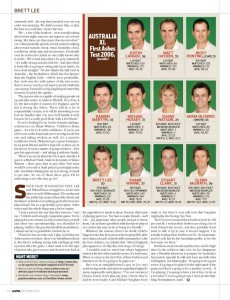 So much for last year. Lee's place in the team is now unquestioned, but his responsibility is greater. McGrath is older, and other bowlers much younger. He sounds like a man content with his own form, at least. "I was really happy – as far as ball speed – with the way the ball came out last year. I bowled a couple of high 159s (km/h) and the fastest I ever bowled was 160.8, so if I'm getting close to where I was in 2003, when I felt really good and I bowled one of my quickest balls, I am really happy with that."
No one else but Shoaib Akhtar bowls anywhere near this fast. It's astonishing that Lee's lethal pace emerges, over after over, from such a relatively slight frame. Delivered by Akhtar, all big arse and broad shoulders, it's less surprising. How does Lee do it? "It's a very good question; it's all relative to what you're used to. I've likened it to, 'How does a person sit in front of a computer for eight hours a day?'
I couldn't do it, but because they're used to doing that, they've become accustomed to it. It's the same with bowling – after a while you become 'bowling fit'. But saying that, you've also got to put the hard work in to make sure you've got the endurance behind you, and that is a credit to our fitness coach."
As a true fast bowler, it's not surprising Lee has no truck with the subtle approach to competition McGrath and Warne indulge in. Warne may indeed have developed a new shooting zooter, but not Lee. "I'm just happy to hit the cricket pitch," he laughs. "But even if I did (have a new weapon), I wouldn't go out and publicise it. I'm the type of person that likes my bowling to do the talking. I honestly just want to top up on what I did in the last two seasons."
What about a bit of gentle McGrath trash talk? Flintoff's my bunny, five-zip to the Aussies, that kind of thing. "I don't like to (publicly) set goals about knocking batsmen over. You might have a plan inside your head, or you might have goals for certain batsmen and try to get these batsmen out, but I don't want to share it with anybody else, because I've always worked best if I'm focused on what I'm doing. I don't like playing those types of prediction games – but that's just the way I operate."
The last series threw up interesting new issues, one of the most important being reverse swing – which the Poms used well, the Aussie bowlers didn't and the Aussie batsmen handled worst of all. Now it's impossible to ignore.
"Reverse swing is crucial to a cricket team as part of the fast bowler's armoury. It's so important that a fast bowler can learn how to bowl with the old ball, commonly known as reverse swing. And that's something we didn't do well last year. England did it extremely well – the way they knocked over our top order was amazing. We didn't counter that, or play the best we could have, hence the loss.
"We – a few of the bowlers – were actually taking about it last night: ways we can improve our reverse swing. But there are that many theories involved." Lee enthusiastically spends several minutes talking about wind tunnels, sweat, wind, humidity, cloud, conditions, sticky tape and air pressure. Eventually even he is forced to admit no one really knows why it works. "We've had days where it's gone massively – it's really swung around a fair bit – and days when it looks like it's going to swing and it just hasn't; it's been dead straight." He also thinks the ball used in Australia – the Kookaburra, which has less lacquer than the English Duke – will be more predictable. But, such was the wild nature of the last series, there's not too much you'd want to predict with this one anyway. Pressed for a big English performer this summer, he picks the captain.
"The person who is capable of making people sit up and take notice is Andrew Flintoff. He's done it for the last couple of seasons for England, and he did it during the Ashes. There will be a lot of responsibility on him, so it will be interesting to see how he handles that. I'm sure he'll handle it well, because he's a really good bloke with a level head."
If you're looking for an Aussie surprise package, reckons Lee, try Shane Watson. "Cricket's a funny game – it's a lot to do with confidence. If you've got a few runs on the board and you're scoring at a decent rate and taking wickets as well, it's a massive confidence boost. [Watson's] got a great technique, he's a great listener and he's super-fit, so those are in his favour. It's just a matter of going out there – if he gets his opportunity – and taking it with two hands.
"There's no secret about the No.6 spot, whether it goes to a Michael Clark, Andrew Symonds or Shane Watson – three guys that in any other Test team would be a second or third pick [to go] straight in the side. Australia's batting line-up is so strong, it's hard to get into. So out of those three guys it'll be interesting to see who they go for."
________
Since that Edgbaston Test, Lee  and Flintoff have struggled to avoid each other, even 20,000km apart. The media and the public have paired them like Butch and Sundance: symbols of everything great about a series played hard, but in a (generally) good spirit. Other voices said the whole thing was a bit too matey.
"I treat a person the way that they treat me," says Lee. "Cricket's such a tough, competitive game. You're playing for your country, [so] if you can't enjoy yourself and show true sportsmanship, you shouldn't be playing. And he's the guy who has all those attributes. I always say he's a great bloke, because he is.
"If anyone has seen the way I play, including my Ashes series over there, there's no friendliness about it. But there's nothing wrong with catching up with a person after the game. I don't want to be the type of person who goes on tour and doesn't even look at the opposition or speak to them. Because that's part of playing sport, too. You have to make friends – well I do – [to] appreciate other people and get to know them. I do not have a problem with the way we played our cricket last year, as far as being too friendly."
Whatever the reasons, there's no doubt cricket's biggest series has been given a thorough polish, after more than a decade of predictable mismatches. Like the best rivalries, Lee admits that "when [England] play against us, it's like this new surge of energy.
"I wouldn't read too much into what's happened between the last Ashes and this series. It's irrelevant. When it comes to the first Test, if their bowlers and batsmen are fit, it's going to be game on."
But even as straightforward a guy as Lee can't resist seeing smoke and mirrors regarding England's many supposedly unfit players. "I'm not convinced [Simon Jones] won't play any part. I know they've said he won't make it and Michael Vaughan won't make it, but there's even talk now that Vaughan might play the Boxing Day Test.
"But I'm not convinced their bowlers won't be 100 per cent fit. I reckon their bowlers are doing a lot of work behind the scenes, and they probably don't want to talk it up in case it doesn't happen. I'm actually hoping their bowlers are fit. It's important, and it's only fair for the Australian public, to see the best team out there."
But those are just words and theories, and it's high time for the cricket to take over. As Lee disappears into a Mumbai afternoon to prepare for Australia's first match, typically he will only leave me with what will happen, not what might. "It's going to be a great series, it's going to be played in the right spirit of the game and there's going to be a massive crowd… If I'm playing, I'm going to have a lot of fun. As far as a scoreline? I'm not going to say. I don't predict that. Ring Nostradamus, mate."
________
See this as PDFs: