Date Lines
Warning – adult content ahead!
This is an earnest schlep for
Ralph
magazine through the dating scene as it stood in 2001, when the world and his wife (and his mistress) had yet to move online, and fast dating was the latest 10-minute wonder. It's the kind of story only a young (ish), single writer can really do properly. Reading it again, what comes back is how mad and sad some of it was. I'm sure it's got even worse since. It also brings back the often soulless aspects of it. As I say here, every time I talked to someone I felt my personality was on trial. Everything I was, just so many saleable goods.
________
Organised dating once had the same stigma attached to it as being a convicted elephant molester. Trying to meet someone through a newspaper, instead of doing it the normal way – pissed in a bar – was admitting you had social problems. That's probably why the editor assigned this story to me.
My brief is to visit three dating agencies, join an online dating site, try an evening of fast dating, and put a personal ad in the paper. I keep telling myself to be professional – it's just a job. Even better, if I meet a girl I like, I can claim the entire relationship back on expenses.
________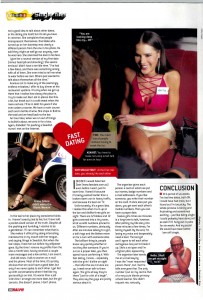 Dating Agencies
At the Fosdyke Introductions dating agency (names changed to protect the guilty), I meet a creepy baldy bloke called Frank. He ushers me into a room. He wants $40 for a half-hour consultation with a, er, consultant.
Once I've filled in a form – "easygoing and looking for a woman with a sense of humour" – Frank pulls out forms with photos of women attached and asks me to pick my favourites. The girls' personal, confidential details are all there. I haven't shown him any ID.
Frank takes me through Fosdyke Introductions' range of services. At the top, the Silver Service VIP" deal costs $6000. Six grand! At the other end, for $200, they will "keep you on file". The next service up is $600, then $1200, and so on up to $4000 and $6000. What's the difference between them? I ask. Frank gives me an insincere smile.
"If you pay more, we work a lot harder for you," he says. "If you are on the VIP program, we are always available. The person has access to me at all times."
Aha, I think. You are a pimp.
Frank explains that, at the top, they work hard to find girls who are your closest possible match. The next level down gets less work, looser matches, fewer phone calls. And what does "No photo" mean on the cheaper packages?
"That means we match your details with a suitable lady, sight unseen…"
So, I'd pay $1200 for a blind date?
"I'd prefer not to call it a blind date…"
But that's what it is. After about 45 minutes, two things are obvious: If I want a straight answer, I have to find someone else; and I've wasted $40.
At the next agency, Vital Partners, I'm buzzed up into a deserted office. A tiny girl called Mylan sits me down. In front of me is an album full of letters from delighted punters saying they'd found true love.
Mylan checks my ID and asks for my height, weight and hair colour. For looks, the options available are "attractive, "very attractive", or "a good personality".
She asks what I'm like as a person. I don't know. "What are you passionate about?" she asks.
I'm stumped – drinking and sex probably won't do. Later, Yvonne Firmin (sex columnist) tells me that women like a man to passionate about something, "as long as it's not the pokies".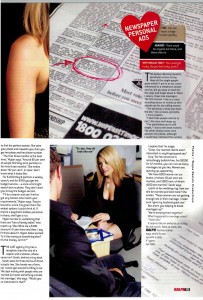 Vital Partners claims to have 1800 women on its books. Its priority service costs $1300. I could buy a car for that, although it would break down a lot. For $1300, Vital Partners will try every day to find the perfect woman. She sees your photo and requests you, then you get her photo and her phone number.
"The first three months is the best time," Mylan says. "Around 82 per cent of people find long-term partners in the first three months." She writes down "82 per cent", in case I don't know what it looks like.
For $1100 they'll perform a weekly search, and for $700 you get the budget service – a once-a-fortnight search but no photo. They don't want you to buy the budget service.
"I'll do a search and see if we've got any women who match your requirements," Mylan says. They're bound to, since I've given them the widest options I could think of. If there's a psychotic lesbian pensioner in there, she'll get a run.
Mylan hurries in, exclaiming that there are "lots of lovely ladies" who match up. She offers me a $100 discount if I join there and then. I say I'll think about it. Mylan looks worried. "Is it the money or something else? It's the money, isn't it?"
The last agency I try has a reception area the size of a napkin and a woman, whose name isn't Sarah, behind a tiny desk.
Sarah asks for three forms of ID, but accepts two. She hands me a form, but I never get around to filling it out. "We deal mainly with people who are married but want something outside the marriage," she says. "Would you be interested in that?"
I explain that I'm single.
"Great. Our married clients aren't interested in anything beyond sex."
Gulp. The fee structure is refreshingly bullshit-free. For $2000 for 12 months, you can ruin as many marriages as you like. Women are queuing up, apparently.
"We have 6000 women on our books, of whom 50 per cent are married, and 5000 men, of whom 4000 are married," Sarah says.
I point to her wedding ring. How can she be married and work here? She smiles. "These women are not getting enough sex in their marriage. I make sure I give my husband great sex."
But aren't you helping break marriages up?
"We're keeping them together."
What happened to marriage vows?
"That's life."
It seems like an awful lot of outlay for not much. Back at work, the fashion editor says she'll fix me up with a date if I give her $50.
________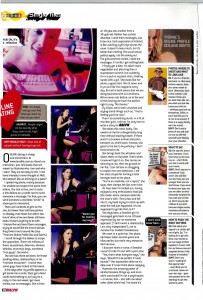 Newspaper Personal Ads
The Sydney Morning Herald personals section is tiny. Have all the single people gone online? I put in an ad, cross-referenced to a telephone answer service, but go away on work for five days and forget about it. When I return I have two messages. The first woman I ring is a scary-sounding doctor of nearly 40 who attacks me for not calling sooner.
"I'm obviously a long way down the list," she accuses, grumpily.
I try to explain.
"I don't like people who lie to me," she says and hangs up.
I'm astonished you're still single, I say to the dead receiver.
The other woman never even answers her phone, although I could have misheard the number.
________
Online Dating
Online dating is cheap and convenient. At www.lavalife.com there's no interview. I just tick boxes that are meant to illustrate who I am and who I want. They are too easy to tick. I now have interests I never thought of. Well, who doesn't like an evening on a patio?
I upload my photo, mainly because I'm shallow and expect the same from others. The site is free, and it costs a few dollars on a credit card to send someone a message. For free, you can send someone a wordless "smile" to show you're interested.
There are hundreds of girls on the site, but fewer than half have photos on display, even fewer live within two hours' drive of me and fewer still have looks I'd want anything to do with. I choose five and send them messages, trying to sound like the kind of person they'd want me to sound like.
I scroll through the blokes to scope the opposition. There are millions of them: musclemen, dwarves, obvious weirdos, mummy's boys, countless "nice guys", the works.
The site has three sections: for those seeking dates, relationships, or an "intimate encounter". I notice that some guys have ticked all the boxes.
A few days after my profile appears, a girl sends me a smile. She's got a face I could stand talking to, so I pay for a reply. In the next week I get more smiles, but no messages. One is from an 18-year-old, another from a 39-year-old. Neither has a photo attached. I send them messages, just to be nice. Each expression of interest is like catching a girl's eye across the room. It doesn't mean much, but it's better than nothing. The usual sexual politics apply: I do the asking out. The girls send the smiles, I send the messages. If I smile, I get nothing back.
I finally get a date. It's taken more negotiation and planning than a Superpower summit, but suddenly I'm in a pub in my best shirt, shaking hands with a girl. She looks like her photo: a good start. We sit down and try to act like this happens every day. But we are both aware that we're doing business with our emotions. We've never met before, so at the end of the evening we have the perfect right to say, "No, thanks."
By 10pm, we're both smashed and saying dumb things such as, "I had a feeling you'd be nice."
Then I do something dumb. In a fit of drunken guilt, I tell her I'm only here to write a story.
She takes this news badly. She swears at me for a dangerously long time without drawing breath. If there wasn't a drunken animal attraction between us, she'd leave. Instead, she goes to the bar to buy whisky. I don't know what to do.
She brings back the whiskies and slams them on the table. That's when I know we'll get it on. She carries on shouting at me, then we go back to her flat. I can tell she is struggling to explain her own behaviour. I tell her she's stupid for inviting a total stranger back to her place.
"You're an arsehole, not a rapist," she says, then clamps her lips over mine.
An hour later I'm kicked out. She made Jenna Jameson look like the vicar's wife. I find a taxi and fall into it, my head trying to catch up with what the hell just happened.  It's not supposed to go like that, is it?
Two days later, a Swedish girl I'd messaged gets back to me. I'd been impressed by her no-nonsense approach ("I don't want a relationship. I am very independent"), not to mention her model's cheekbones.
We meet in a quiet bar. Her photo had been taken several years and kilos earlier, but she's very attractive. And nervous.
I discover she's a nurse. A Swedish nurse! It's like I'm out with a porn star.
"Yes, that's what everyone says," she says. "Wouldn't it be perfect if I was blonde?" Her expression tells me it's date-over if I even think about replying.
However, the amazing power of alcohol loosens things up, and once she's convinced I'm not a psychopath – or worse, dull – she tells me about other dates she's had. I've heard it's not a good idea to talk about other dates, or the dating site itself, but it's all you have in common. She complains that people misrepresent themselves. One bloke who turned up on her doorstep was clearly a different person from the one in his photo. He said they might as well go out anyway, now he was here. She slammed the door in his face.
I give her a neutral version of my first date (minus shouting). She seems envious I didn't have a terrible time. "I've had a few dates, and there was something wrong with all of them. One even tried to tell me what to wear before we met. Others just want to talk about themselves all the time."
Anxious not to make any of the seemingly endless mistakes, I offer to buy dinner at the restaurant upstairs. It's only when I get up there do I realise how classy the place is. I try to make out like I eat in places like this a lot, but break out in a cold sweat when the menu arrives. I'll be in debt for years if she even orders a starter. We have a main course each and a bottle of wine. She chips in $40 to the total and we head back to the bar.
An hour later, when we run out of things to bullshit about, we zero in for a kiss. Again, disbelief: I'm kissing a Swedish nurse I met on the internet.
In the taxi to her place, my conscience kicks in. I haven't exactly lied to her, but I have told a pocket-sized version of the truth. Despite all the kissing and fumbling, I resolve to be a gentleman. If I can remember what that is.
She makes it difficult by doing interesting manoeuvres in my mouth with her tongue, and saying things in Swedish. But when the taxi stops, I boot her out before my willpower goes.
By the time I remove my profile from the site, a month later, I am over it.
And old news. I talk to women on email and the phone. Most of the time, it's quickly obvious that we could have a good date, but only if we never spoke to each other. I get fed up with conversations where I feel like my personality's on trial. It's worse than a job interview. I arrange one more date, but the girl cancels. She doesn't phone. I don't phone.
________
Fast Dating
I decided I would hate Fast Date even before I went, just to save time. I hated it because it's being pushed harder than a broken-down van in heavy traffic, and because it's been on TV.
Unfortunately, it's a great idea. I realise this when I turn up at the bar and dislike three girls on sight. There are 12 blokes and 12 girls crammed into a tiny room, all of us with numbers pinned on. Different numbers, obviously. After six minutes talking to a girl, a bell rings and the blokes move on for a turn with someone else.
The brilliant thing is, people know very quickly whether or not they like someone. If you're out on a proper date, you then spend hours confirming it. With fast dating, I know – especially with the girls I dislike on sight – that after the six minutes are up, I need never talk to them again. The girls all say they're there "for a bit of a laugh". They also say the guys are pretty serious about it.
The organiser gives each person a card on which we put our names, badge numbers and email addresses. If you like someone, you write their number on the card. If she's also put you down, you get sent each other's mobile numbers. Then you can have a proper date.
Twelve girls times six minutes is a long time to talk, however. After potting my life story into three minutes a few times, I'm boring myself. By the end, I'm losing my voice and desperately need a beer. The last girl and I agree to tell each other outrageous lies just to break it up. She's a stripper and I'm a fighter pilot, apparently.
The organiser later sends me an email saying I was the "most requested person there", but I bet he tells everyone that. The only number I put on my card is that of a very cute blonde primary-school teacher. She didn't request me, naturally.
________
In a period of six weeks I've had two dates, both OK. I could have had more, but I found out I'm too picky. The whole process is boring and frustrating and sometimes exciting – just like being single. I could probably have done just as well if I'd hung out in pubs for six weeks. And my social life would have been better.
I am still single.
________
See this as PDFs: