Going For Gold
There's a lot of fun to be had on the
Gold Coast
, and I tried to do as much as possible. I structured it to be a kind of clock-race scenario, and it sorta worked. It helped that I spent a lot of the weekend genuinely annoyed that things were going wrong. For
Alpha
magazine in about 2009. The cheesy shot in the boat (left) is in no way my fault.
________
Friday
For the fun-seeking visitor, a proper weekend on the Gold Coast needs a cunning plan, a watch so you don't miss anything and a map so you know where to go next. I have the plan and the watch and a GPS instead of a map. Within 10 minutes of arriving, the GPS starts lying to me.
4:30pm
I can feel the numbers of the clock hovering big and red over my head. Within 2.5 hours I have to find my hotel, "freshen up" (take a piss) and go to the footy. I leave the airport and drive straight into a bunch of freeway redevelopments the satellite hasn't been told about yet. "Route recalculation," says the smooth American voice. "Turn left in 500m."
I can't turn left. "Turn back," says the GPS.
"I'm going 80km/h," I tell it.
"Turn back, turn back."
I eventually get off the freeway, phone the hotel for directions and set off. "Take next left, then sharp left," says the GPS. At the junction it says, "Turn right." Instead, I turn it off.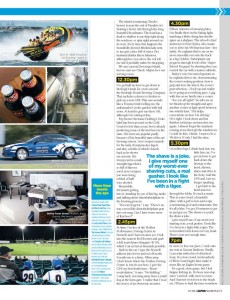 7pm
Skilled Park, the NRL's newest stadium, host to the league's newest side, glows in the dark. Locals call it the "big pillow", which is about right, but it doesn't give the Bulldogs a soft landing. Scott Prince, Origin reject, tears through Sonny Bill's side in a blistering first-half performance, and the 23,000 goes crazy. Most of them seem to be kids, which is a good thing for a team building for the future. This is footy for the 21st century.
Saturday
9.30am
Due at the Marina Mirage Farmer's Markets, I get in the car, plug the GPS into the cigarette lighter and turn it on. The screen flashes up an "insufficient battery" message, then goes blank. I didn't even know it needed a battery. Why do I plug it in, then?
I don't have time for this. I can see those big red numbers, ticking over. The hotel gives me a tourist map, with reassuring cartoon graphics of Seaworld and the beaches, but not much other detail.
10.15am
I throw the car into a space and rush to the markets. In half an hour I'm due on a jetboat. There's some delicious-looking stuff here: giant muffins, several thousand cupcakes, tubs of Italian food and pasta sauce in bags. The new age gets a look-in too, with crystal deodorant and raw honey for use as a cold cure. There are even things I don't understand, like jars of curried onions and… What in the hell is that? I yell at the store owner. "Chocolate sardines," he says, sheepishly.
What do they taste like, then?
"They taste like chocolate. With a bit of sardine."
You're kidding, I tell him. I could go a nice coffee and a cupcake, but there is no time.
11am
According to the internet, movie actor Chuck Norris drives "an ice-cream truck covered in human skulls". It's difficult to say how the other zillionaire residents of exclusive Sovereign Island feel about this. My feeling is they're just grateful for the ice-cream.
The island (containing Chuck's House) is near the end of Paradise Jet Boating's hectic ride up past Seaworld and through the long, beautiful Broadwater. The boat has a draft so shallow it can skip right along the seashore like a flat stone at 40 knots, or spin right around on its nose. Every time this happens the beautifully dressed Muslim lady next to me gets a face full of water. Her husband thinks this is hilarious, although her eyes above the veil tell me she'd probably rather be shopping.
We race around expensive, lonely Sovereign Island, but we can't see Chuck. Maybe he's out punching cones.
12.30pm
I've got half an hour to get down to Burleigh Heads for a tour around the Burleigh Heads Brewing Company. That includes a detour to Surfers' to pick up a new GPS. This one sounds like a Pommy butler telling me the ambassador's in the garden with bad news. At least he gets me there OK, although I'm cutting it fine.
Top brewer Brennan Fielding's Duke label has been around on the Gold Coast for less than a year, but is already producing some of the best beer in the state. His tours are popular, partly because of his beautiful state-of-the-art brewing system, but I suspect mainly for the tasty, European-stye lagers and ales, a bottle of which I'm knocking back as he shows me around. His trump card is a mid-strength lager that's so full of flavour you'd never suspect you were being robbed of half your alcohol.
Meanwhile, Brennan's getting into it, standing by one of his big, gleaming tanks and talking about dimethylsulphate in the brewing process. You can forget it, mate, I say. There's no way a word like dimethylsulphate gets into our mag. Can I have some more of that beer?
2.45pm
At 4pm I'm due at the Holden Performance Driving Centre in Norwell, and I haven't eaten yet. I bolt into Red Rooster and grab a full roast dinner (bargain: $7.95), which I eat as fast as humanly possible.
Back in the car I plug the Norwell address into Jeeves, check it twice and set off north. It sends me to a farm, 50km away. I don't know where Holden Performance Driving is but it's not here. I look at the GPS. "Route recalculation," it says. "No kidding," I snarl, reversing away from the small dog at the gate. I'm at the mercy of an electronic monster.
4.30pm
Fifteen minutes of swearing later, I'm finally there in the fading light, watching a bloke doing fast double-spins on a skid-pan. The school's chief instructor is Peter Bizley, who wants you to drive his V8 Supercar fast – but safely. He explains this to me as we move smoothly out onto the track in a big Holden. Participants can progress through levels of his Super School Program by showing they can control the car with a mature attitude.
Bizley's voice has become hypnotic as he explains this to me, demonstrating the correct seating position, how to grip the wheel, the correct gear selection… I look up and realise we're going at a terrifying pace. I gag with fear as we hurtle into a corner.
"Are you all right?" he asks as we thrash up the straight and apex another corner at light speed between two cones. "If it helps, concentrate on how I'm driving." He's right. I look down and his flawless technique mesmerises me again. I can almost forget the mayhem through the windscreen.
I could do this, I think. I want to be a V8 driver. If only I had the time.
5.30pm
On rubber legs I climb back into my little hire car. I've got an hour to get back down the freeway to the hotel, shower, shave and drive to the footy. And the GPS and I are no longer speaking.
I make it back and run through the lobby. It's such a waste. This is a nice hotel, a beautiful place, with a golf course and a spa, a swimming pool and restaurants. But it's all a blur. I've got 20 minutes to get in and get out. The shower is quick, the shave a joke. I give myself one of my worst-ever shaving cuts, a real gusher. I look like I've been in a fight with a tiger. The red numbers tick down over my head. There's no time left. THERE. IS. NO. TIME.
7pm
In more or less one piece, I sink onto my seat at Carrara Stadium. Finally I can relax with a bit of old-school footy. It's a low crowd, but that's not surprising, considering the popularity of the Kangaroos up here now. Bizarrely, hundreds of West Coast Eagles fans make it seem like an Eagles home game.
It's a good, close game, but I feel fatigue kicking in. It's been non-stop since I arrived, with more to come. And I haven't even been to the beach yet. I'll have to find the time somehow.
The Details
The writer stayed at the Crowne Plaza Royal Pines Golf Resort and Spa, where he also had an excellent golf lesson and a welcome massage
Go see the Gold Coast Titans
The Farmer's Market is at Marina Mirage, Main Beach.
Go for a fast ride with Paradise Jetboating, next to Marina Mirage
Try a boutique brewery tour with the Burleigh Brewery Company
Drive a V8 or just have hot laps, at the Holden Performance Driving Centre in Norwell
________
See this as PDFS: