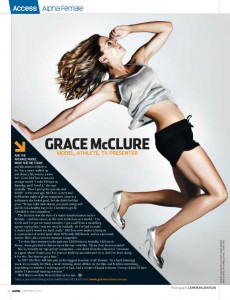 A brief chat with the model and
personal trainer
, for
Alpha
magazine. I'm not sure how much she had to do with professional sport, but absolutely no-one complained. The photographer was
Cameron Grayson
.
________
ASK THE AVERAGE MODEL WHAT SHE DID TODAY, and the answer is likely to be, "Ate a carrot, walked up and down a bit, went to a wine bar". Grace McClure is not your average model.
"I rode 130 kays on Saturday, and I Ioved it," she says excitedly. "Then I got up the next day and did 80." A few years ago, McClure, a curvy and well-known staple of glossy magazines, came to a realisation: she looked good, but she didn't feel that great. "To stay really stick-skinny, you aren't eating well and it's not a healthy way to be. I decided to get fit; I decided to run a marathon."
The decision was the start of a major transformation in her lifestyle – and her career, as she now works less as a model. "I'm too fit and I've got too many muscles. I got a call from a modelling agency saying that I was too muscly, basically. So I've had to make a choice and it wasn't too hard, really."
McClure now makes a living as a co-presenter of motor sport show RPM with Bill Woods, and as a personal trainer. She's also a serious ironman competitor. "I've done three ironmen in the past year. I did Forster in Australia, I did one in Korea… Some guy tried to chat me up on the way. I was like, 'Oh my God, are you serious?' She is currently an "age-group" competitor – one down from the elite level.
"Ironman is a sport where it takes you five years to build up an endurance in it. And I've been doing it for two. You have to get a base." In 2007, McClure will take part in the biggest ironman of all: Hawaii. "In a hard (training) week, it's normally 60-70km a week running, about 400km on the bike and 8-12km swimming, depending on whether I'm being good or bad. And a couple of kayak sessions. On top of that I'll have maybe 15 personal training sessions."
We'd like to see Kate Moss try that on for size.
________
See this as a higher-res PDF: