Dual Purpose
Just before the 2006 World Cup, I went to the rural training centre of Premiership football club
Blackburn Rovers
, to see their Australian players, defender
Lucas Neill
and midfielder
Brett Emerton
. Australia went on to have a decent Cup, Neill then went to West Ham, Everton and Turkey; Emerton is still, to date, at Rovers. This was for
Alpha
magazine; the photographer was News Ltd stalwart
Gregg Porteous
.
_________
Somewhere in the wilds of Lancashire in the north of England, off a motorway, off a main road, down a country lane, past a bloke with a sheep and a village pub so old Pitt the Elder had a pint in it, is a place that doesn't belong there at all.
The first clue is the bronze sculpture of a footballer by the road, busy dribbling a bronze football along a hedgerow. The next is the huge blue-plastic and steel construction opposite, with a sign saying "Senior Training Centre". This is the training complex for Blackburn Rovers FC, the Premiership club biffing its way like a tug from the terrible whirlpool of relegation into the heavy seas of mid-table, and the home of Brett Emerton and Lucas Neill, Socceroos.
The glamour of the Premiership is not here. Despite the big shiny vehicles stocking the car park, this is a shivery windswept place, especially in English January, when the sun is something a displaced Australian can only struggle to remember, and the day begins to fade at something like three o'clock. It is a place where a footballer gets reminded of the basics of his trade, and one the average fan would do well to find and encouraged not to linger. The walls inside are lined with posters featuring ecstatic Blackburn goal-celebrations and inspiring slogans ("It's not about the breaths you take; it's the breaths you take away"; "The heart is not just a muscle"); doors open onto weights rooms and treatment rooms and offices for physios and trainers and managers: all the pieces of a machine geared to delivering 11 men with a plan onto a football pitch on match-day.
In a vast full-sized indoor football arena like a carpeted aircraft hangar, the photographer pokes miserably at his equipment under the dim lights far above. Brett Emerton is thrown Nike's new World Cup-edition Socceroos top, the golden garment the first and only one anywhere in the world. He looks at it. "Don't Brazil wear exactly this colour?" There is a brief silence as we all look at each other, alone in this huge atmosphere-free room on the edge of nowhere. It's a sudden reminder that in just a few months from now, two of us will be standing on the same pitch as some of the finest players in one of the best teams in any sport, ever. And that is something.
_________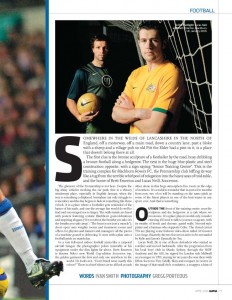 Outside the front of the training centre, near the sculpture and the hedgerow, is a cafe where we reconvene. It's a place players would only consider entering if forced to talk to journos or agents, with its swathe of beech and chrome, pastel walls, Novotel-style prints and a barman who supports Celtic. The closed-circuit TVs are playing some hideous video-show called 50 Greatest Love Songs. Bizarrely, the two Socceroos arrive to be serenaded by Kylie and Jason's Especially for You.
Lucas Neill, 28, is one of those defenders who started as a striker and moved backwards. After the progression from his local boys' club in Manly, Sydney, through the NSW Academy and the AIS, he signed for London side Millwall as a teenager in 1995, staying for six years (he was there with fellow Socceroo Tim Cahill). Slim and compact, he seems in the image of that small club: combative, a scrapper, a hint of "no one likes us and we don't care". In the make-do atmosphere of the old English second division, Neill played everywhere on the park but up-front and in goal. "For a while no one really knew what my best position was," he says. "Then I had a season at right-midfield and right-back and we won the league.
"I came here (to Blackburn, in 2001) on trial as a midfielder; then two right-backs got injured, one on the Wednesday and one on the Thursday. On the Friday I was signed and I played on Saturday against Sunderland. Weird, weird, weird chance that I got. After that I've missed 10 games in five years."
Neill had no doubts that he was Premiership material. In fact, he rarely seems to have any doubts at all. Slotted in the workaday position of right-back, it's easy to forget that this is a man who has been playing against some of the world's best for years without taking a step back. For the clearest insight to his character, think back to that nerve-mangling penalty shootout in Australia's World Cup qualifier against Uruguay. There were many different expressions on the faces of those present, but the only one featuring a smirk was that of Lucas Neill, as he ran up to stroke his penalty home. Not a smile, mind you, but a smirk.
"The day before the match, John Aloisi and I went to that end to take five penalties each. I hit my five in exactly that corner. So when I walk up (during the shootout), I'm kind of smirking because I know I've done five of these already. I just walk up, do the exact same routine and hit the exact same spot. That's how confident I was. The keeper went the other way, but I don't think he would have saved it."
The penalty shootout is the footballer's defining terror: the only thing that turns a democratic team sport into man-to-man combat. The manager has to look into your eyes and know you won't fall apart, buckle on the run-up, blaze the thing into creation. Dutchman Guus Hiddink, even as a recently installed manager, must have known Neill was his man.
"I love that kind of pressure," says Neill, and he is smirking again just thinking about it. "The penalty shootout (against Uruguay) – that's what I live for. Giving yourself a chance to get into that position – to be the one to make the difference in the big games. My worry was not missing, but not being there at all. It was great."
For a solid player, a stopper, Lucas Neill comes across as a contradiction. He tries to be serious, the hard pillar of the back line, but a broad grin is often bubbling underneath. At the start of the 2003-04 season, Neill performed an inelegant lunge at Liverpool defender Jamie Carragher, breaking his leg. As a result of the media firestorm that followed, he no longer talks to the British press. In fact, he says, he doesn't read about himself and doesn't care about his reputation, whatever it may be. "I know I play well every week and I only seem to get noticed for the bad things I do," he complains.
He embarks on a long defender's speech about how so many players are divers and the referees have got it in for him and the crowds have turned soft, but underneath it all, with his beautiful silver bling and the personalised car-number plate, you sense the old Manly goal-scorer waiting to get out.
"I watch Timmy (Cahill) and Harry (Kewell) and Dukes (Mark Viduka) and they can take all the headlines," he claims. "It doesn't bother me. I get the same bonuses as them, the same success, the same feeling of winning. Harry goes on MTV Cribs and I don't. He's got a more skilful reputation than me and that's all right. We're completely different people. I'll never put my house on telly. I don't want people to know what they can nick from my house." The grin is in full evidence. He says he doesn't seek the attention, but is clearly enjoying himself now.
_________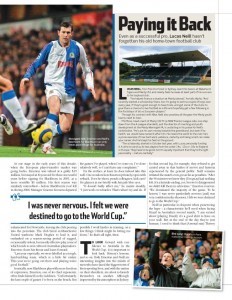 Blackburn's other resident Socceroo, Brett Emerton, 27, is a very different kettle of footballer. Taller, bulkier and broader of feature, he sits seriously across the beechwood table like a man about to give evidence at a grand jury. He speaks quietly and politely, clearing his throat before each answer, as though long out of practice. There may be a place where the careless and crazy Brett Emerton dwells, but it's unlikely to be uncovered in an hour over tea and biscuits.
If Neill represents the Socceroos' strength and stability, Emerton is, alongside Kewell, one of those expected to give the side its creative surprises. He is an attacking midfielder, a winger with the ability to worry defenders by running fast at them with the ball (which they hate) and the amazingly rare talent to place a cross where he wants it (which they hate even more) – the same skill that gave Mr Beckham his nice house and his Real Madrid contract.
From Campbelltown in Sydney's west, the young Emerton experienced, if anything, an even smoother ride through the professional ranks than Neill. From the age of five, football was his main love, and he was embraced by NSW, the AIS and Sydney Olympic, before Dutch club Feyenoord snapped him up in 2000. Shrewdly and, one feels typically, his move abroad was only achieved with a great deal of planning and preparation.
"I played for Sydney Olympic for three or four seasons. I just thought it was important that when I did make the step to move overseas I was ready, not only as a footballer but as a person as well."
At one stage in the early years of this decade, when the European player-transfer market was going berko, Emerton was valued at a giddy $19 million, but stayed at Feyenoord for three successful years before signing for Blackburn in 2003, at a more sensible $5 million. His first season was similarly untroubled – before Blackburn's roof fell in during 2004. Manager Graeme Souness departed unlamented for Newcastle, leaving the club peering into the porcelain. The club hired ex-Manchester United warhorse Mark Hughes to lead it, and embarked on a season-saving period of rugged, occasionally violent, but mostly effective play, none of which tends to suit cultured Australian playmakers. Emerton clears his throat and leans forward.
"Last year especially, we were labelled as a tough, hard-tackling team, which is a little bit unfair. This year we're going out there and playing some good football."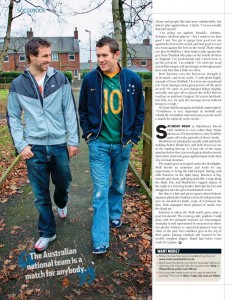 Ironically, now Blackburn play with more freedom of expression, Emerton, one of its chief exponents, often finds himself on the sidelines. "Unfortunately, the last couple of games I've been on the bench. But the games I've played, when I've come on, I've done relatively well, so I can't have any complaints."
On the surface, at least, he does indeed take this well. One wonders how Emerton privately copes with setback. Does he shout, punch colleagues, kick cars? He glances at me briefly with his pale blue eyes.
"It doesn't badly affect me," he insists steadily. "I just work even harder. That's what I try and do. If possible I work harder in training, on a few things I think might be letting me down." So that's all right, then.
To look forward with confidence to Australia in the World Cup, it is important to look back. History's lessons, and so on. Both Emerton and Neill are interesting insights into the minds of men who have faced the biggest tests of their sporting lives, and with the nation on their shoulders, are about to launch themselves on another. Although impressed by the atmosphere in Sydney for that second leg, for example, they refused to get carried away in that basket of nerves and hysteria experienced by the general public. Neill remains irritated the match even got as far as penalties. "After the 90 minutes we knew they (Uruguay) had nothing left. It's a fairytale ending, yes, but we're disappointed we didn't kill them in extra-time." Emerton concurs. "We dominated the majority of the game. To be honest, I was never particularly nervous [and] was very confident in the shootout. I felt we were destined to go to the World Cup."
Neill in particular is eloquent when puncturing the hype – a characteristic he'll need when facing Brazil in Australia's second match. "I am excited about [playing Brazil]; it's a good shirt to have on your wall. But at the end of the day they're just human. I used to think that (Arsenal star) Thierry Henry and people like that were unbelievable, but when I play against them, I think, 'I'm not actually that bad myself.'
"I'm going up against Ronaldo, Adriano, Robinho, all those players – but I want to see how good I am. You get to gauge how good you are against the best in the world, and how good you are as a team against the best in the world. That's what you play football for. I don't want to play against the guy from Trinidad who plays in the fourth division in England. I'm professional and I know how to get the job done. I'm reliable." He curls the word around his tongue self-mockingly, as though people have told him that a little too often.
Brett Emerton sees the Socceroos' strength is in its attack, and in its coach. "I can't speak highly enough of Guus Hiddink. He's done an exceptional job. Great manager and a great person off the pitch as well. He came in and changed things slightly, tactically, and gave all us players the belief that we could go on and beat Uruguay. He's quite laid-back, but firm, too. He gets the message across without being too rough."
He clears his throat again, and adds, unprompted, "Confidence is very important in football and I think the Australian national team is pretty much a match for anybody in the world…"
_________
Saturday night at Blackburn's Ewood Park stadium is even colder than Friday afternoon. If it was windy too, they'd call the game off on the grounds of sheer cruelty.
Blackburn are playing the equally solid and hard-tackling Bolton Wanderers, and both Socceroos are in the starting line-up. It is just one of the many matches before they can even begin to think seriously about their must-win game against Japan in the heat of a German summer.
The match goes as scripted under the floodlights. Neill brooks no nonsense and looks for any opportunity to bring the ball forward, linking well with Emerton on the right wing. Emerton is big, smooth and classy, galloping hard like a stag along the flank. His, and Blackburn's, biggest chance of the night is a towering header that raps the bar and disappears into the gloved-and-hatted crowd.
But this is a bits and pieces game; when Bolton's Japanese playmaker Nakata is sent off, it degenerates into an out-and-out battle, some of it between the fans. Both managers shout plumes of smoke into the frigid air.
Emerton is taken off. Neill nearly gives away a goal, but doesn't. The evening ends, goalless. I walk away cold, but strangely warmed, too. Encouraged. Australia is well represented by men such as these: not plucky B-listers or mercurial glamour boys as often in the past, but confident guys at the top of their game, playing unafraid and unawed in the world's toughest league. Brazil had better come ready for a game.
_________
See this as PDFs: