Subi Human
One of a series of journalistic pub crawls
Ralph
magazine ran. The idea was to forge into increasingly pissed and amorous pubs and clubs and try to reap decent pictures and quotes from them. Sometimes you got lucky, and as such, bits of this tool around Perth suburb Subiaco are more interesting/ entertaining than other bits. From about 2002; photographer
Jonas Bresnan
.
________
9.40pm
465 Hay St
The Subi Hotel looks like a great place; unfortunately, the manager won't let me into it.
"What if people say bad things?" she asks nervously.
They probably won't, I assure her. They are drinking here, after all.
She can't argue with that, and stands aside.
Inside, the place is bursting with Eagles fans celebrating a win over the Dockers just down the road. Some of the crowd, just back from the match, watch it again on the big screen. Drinkers in the beer garden press against the glass panelling; it looks like breeding time at the acquarium.
Two tall, leggy girls calmly avoid my attempts to talk to them, like giraffes evading an elephant turd. They fold themselves into one of the blue velour couches near the far wall. They want to see my ID before I even talk to them. Then they don't say anything.
On a couch near the middle bar, four blondes holding identical glasses of wine claim they're definitely not drunk. "We've been drinking at home for four hours, but we feel pretty good. Can you get us free drinks?"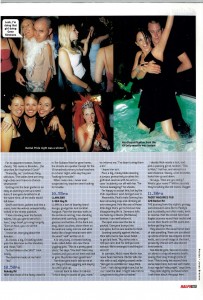 I worm my way back into the crowd and find myself jammed against Melanie and Phoebe. They want to see ID as well. I though Perth was a friendly, trusting place.
"Sure, it is," says Melanie, the taller, blonde girl. "We're just winding you up. We're here because our boss is having his birthday here."
Is she happy about that?
"No."
A bald man in his late 40s turns round. "Yes they are," he says.
"Yes we are," say both girls.
Tony and Steven are watching the office girls in that drunk-subtle way that isn't subtle at all. They at the silly voices stage of the evening.
"I love coming here because of the wonderful people that come here," says Tony loudly. "The women are kind of stand-offish. Eventually, if you buy them a drink… They ignore you."
For no apparent reason, Steven shouts, "His name is Brendan… (he searches for inspiration) Cock!"
"Honestly, no," continues Tony, oblivious. The ladies here are very high-class and I have no chance whatsoever."
Getting into the beer garden is as easy as pushing a ute up a sand dune. If everyone breathed in at the same time, all the walls would fall down.
Geoff and Kevin, jackets and ties a mess, look like wolves accidentally locked in the sheep paddock.
"I love standing near the female toilets, 'cos you get to see who's here," says Geoff, grinning hungrily. "Over an hour, you see all the females."
I move on, worrying about the females.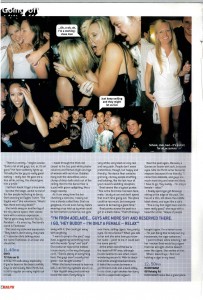 As I leave, a big, fit-looking bloke pats the doorman on the shoulder and I hear, "SAS".
"Is that bloke in the SAS?" I ask nosily.
The doorman looks at me hard. "No."
10.50pm
Rokeby Rd
Now that most of the footy crowd is in the Subiaco Hotel or gone home, the streets are quieter. Except for the 19 smashed primary school teachers on a hens' night, who say they are "looking for trouble".
When I was nine, I never, ever suspected my teachers went looking for trouble.
10.55pm
Llama Bar, 1/464 Hay St
Llama is a sort of bootleg lizard lounge, grunge bar and cocktail hangout. Past the bamboo walls at the entrance are big, free-standing shelves with carefully arranged glasses and bottles. At the back are long black couches; above them on the wall are rusty mirrors and what looks like a large hessian tent with the word "void" written on it.
It is very busy. A relaxed-looking dude called Aiden sits near three giggling girls. "This is a pretty good place," he says. "You don't have any hassles and you can sit here and look at girls. My strike rate's good here."
The three girls won't talk to me at all. They sit there giggling and saying no until I give up.
I retreat back to Aiden for advice. "I think they're scared of you, mate," he informs me. "I've been tuning them a bit."
I leave him to it.
Paul, a big meaty bloke wearing a jumper, protectively crushes his girlfriend Jeannie with his arm in case I suddenly run off with her. "I'm Yvonne Goolagong!" he shouts.
I'm happy to accept this, but by the 15th repetition I wish he'd get over it.
Meanwhile, Paul's mate Sammy has been shouting crap and climbing all over everyone. He's like one of those little dogs that's yet to find out how disappointing life is. Someone tells me Sammy is Rove McManus's brother. I can well believe it.
The open area near the bar is packed. Everyone bumps into everyone, but no-one seems to mind.
Leaning casually against the bar, Mick tells me he has never failed to get laid here. "My strike-rate is 100 per cent. And I'm 100 per cent serious. We're amongst it and we're all at it."
In contrast, Mick's mate Martin has never been laid here. Martin tells me this with a sad, slightly crazed smile. "He's got no confidence," says Mick. "Look – he's doing alright now, but he can't seal the deal. I might take him to Langtrees to buy him a hooker."
I decide Mick needs a test, and pick a passing girl at random. "This is Mick," I tell her, and retreat to a safe distance. Stacey, a hot brunette, looks him up and down.
He says, "How are you doing? What's your name?" Within seconds they are talking like old mates. Bugger.
11.30pm
Paddy Maguires Pub, 328 Barker Rd
The journey from the stylish, grungy, well-dressed Llama Bar to Paddy's pub is probably not often made, even in reverse. Half the crowd here have Eagles scarves round their necks and are on their fourth or fifth quick one before getting home.
They stand in the usual forest-load of oak panelling. There are scrubbed-up shots of Oirish tea clippers on the walls, and a small stage at the front, presently littered with abandoned instruments.
Two blonde girls, Sara and Louise, sit alone in a big old wooden booth, easing their way through pints of beer. "This is only the second time we've been here, but now we'll make it our regular Friday night," says Sara.
They look slightly confused when I ask them about the guys here.
"There's a variety…" begins Louise. "Quite a lot of old guys, but, er, it's all good." Her face suddenly lights up. "Actually the bar guy is really good-looking – really hot. He gave me a free drink, so hey. You should give him a smile."
I tell her I doubt I'd get a free drink.
Up near the stage, Jackie is one of the few people bothering to dance. She's wearing an Eagles T-shirt. "The Eagles won!" she volunteers. "Wooh! Was there ever any doubt?"
She twirls away on another leg of the tiny dance space, then comes back with a serious expression. "We've got to stay here for 'Run to Paradise' – it's amazing. The band's name is Footloose."
She sees my sickened expression.
"They hate it, don't worry, they hate it." I assume she's talking about the name Footloose, or at least she should be.
11.48pm
Onyx, 72 Outram St
A healthy walk away, especially if you've been on the beers a while, Onyx is technically West Perth, but is still a regular on many nights out in Subi.
I wade through the thick red carpet to the bar, past white plaster columns and Roman-style of women with no kit on. Bubbles hang over the dance floor, and a clump of disco balls stick out of the ceiling. Next to the dance floor is a pool with green uplighting, like a magic swamp.
As I turn away from the bar clutching a cold one, I nearly run into a blonde called Kate. She's so gorgeous, it's not even funny. Kate's wearing a top held up by what could be her brother's school tie, but gets away with it. She could get away with anything.
"I want to jump in the pool," says Kate, suggesting something more with the words "jump" and "pool". She rocks her hips to the mellow house music, in the way that guys can't. "There's plenty of everything here. The guys aren't usually that great – but tonight's better."
When she leans forward to hear me talk, I can feel my eyeballs steam up.
I tear myself away and continue round the room. Everything is very white, very black or very red, and very posh. People don't seem pretentious, though, but happy and friendly. The dance floor contains grinning, clumsy people shuffling and bobbing, like the last hour of your cousin's wedding reception.
Brad seems like a typical punter. "This is the first time I've been here, mate. I study at uni and don't spend that much time going out. This place could be too much, but everyone seems to be having a good time."
Brad points across the pool to a girl in a black dress. "That's Bronwyn over there, selling cigars. Very pretty eyes. Do me a favour? When you talk to her and she asks how you know her name – point to me. It could earn me some points."
At the other end of the bar is the roped-off VIP area, although no-one seems to care when I start wandering around it. With its black-and-white straight-backed chairs, it looks like a cross between a gentleman's club and a bank lobby. In one chair, a girl smokes her durry like it's a paper-tube orgasm.
Near the pool again, Manuela, a Qantas air hostie with soft, innocent eyes, tells me Perth is her favourite stopover because it's so friendly. "I come from Adelaide, and guys are much more shy and reserved there. I have to go, 'Hey buddy – I'm only a female – relax.'"
I finally spot cigar girl Bronwyn sitting at the edge of the pool. She has on a thin, slit-down-the-middle black dress, and eyes like a cat's.
"This is my first night here and it's been really good," she says with a beautiful smile. "Heaps of people bought cigars. I'm a dental nurse – I'm just doing this to help out my housemate, the cigar salesman."
I point to Brad, who's loitering. I tell her I reckon Brad would buy cigars from her all night. And he doesn't even like cigars. She smiles at him.
When I leave Onyx, I find I am holding a cigar in my hand.
12.50pm
Buddhabar, 88 Rokeby Rd
Buddhabar looks like a great place. Unfortunately, it's empty. Nearly everyone has finished eating in the funky restaurant, finished sitting elegantly on the blue lounges and listening to the funky DJ, and moved on to the Red Sea or Sapphire nightclubs. As I walk in, the last four girls walk out, followed by three stoked-looking guys. I do the same.
1am
Red Sea, 83 Rokeby Rd
Up two flights of steps and past two semi-empty balconies, the Red Sea contains a shitload of people and more dry ice than a Bon Jovi concert. My progress is physically interrupted by John, a thickset man of about 30. He looks like he's been through all the usual drinking moods at least once, and finally settled on sullen rage. "Mate, every girl – they're all up for it, but they're not all into it," he says, glaring at me. "That's a major, major quote. I can get on with these women – if I can be f-ken bothered."
He goes on like this, while I try and figure out how to get away without being pounded. Like a coward, I tell him he's right about everything, until he feels he's got his point across.
The dance floor runs nearly the length of one wall, split by the DJ, who's putting out some awesome dance music. As I catch one dancing girl's eye, she beckons in a blatant invitation. One second later, a passing girl brushes her hand across my groin. OK, I think. Right. Good.
The further I move towards the back, the weirder Red Sea gets. In one corner is a bunch of slick, dangerous-looking types, waiting for that Sopranos call-up. In the other are the bikies: all bikies, black leather and ink.
On the dance floor, the big guys shuffle; the girls gyrate like it's their last chance. Two girls writhe together like lesbians should but probably don't. A tall blonde in a tiny white top says, "A lot of people come here to pick up. And they do quite well."
Alice, a slim, dark girl in a practically illegal black number, says she comes here because there's nowhere else to go. "It's like a mix of everyone. The guys in here are alright," she says doubtfully. "They were better in Llama Bar."
Mike and Vinnie, two guys on holiday from Melbourne, can't get enough. "Hell of a lot of women, mate – lovin' it," says Mike. "It's the WA factor. The girls here shit all over Melbourne girls. I rate my chances tonight. I feel very confident."
1.55am
The Sapphire Bar, 298 Hay St
Subiaco's other club of choice is Sapphire. It's a medium-sized place on two levels, with a tiny dance floor and a big poster of Marilyn on the wall. Monroe, not Manson.
It's an off night. There's no real atmosphere, and the best-looking girls are the two blonde barmaids. People huddle on the dance floor like they're sheltering from rain.
There's lots of guys, and most look like they're having one last try before calling it a night.
Brad and Mike, two locals, stand near the bar looking bored. They normally go to the Red Sea but thought they'd try a change. "It's not too bad here," says Brad, scanning the room to make sure. "The talent could be better. I've got to go to work in the morning so I probably won't pick up."
Mike nods, although I can't tell if it's in agreement, or he's falling asleep.
2.20am
Outside the Sapphire Bar
On the pavement are two cute blonde girls I've seen in nearly every place tonight. They turn out to be Norwegian students, Margrete and Anna. "We only come here sometimes," says Margrete. "There are a lot of Norwegian parties."
I wonder what goes on at these Norwegian parties. Norwegian stuff, probably.
I notice three young guys, Blair, Matt and Gough, watching with great interest, as if they really could go a Norwegian party. "We've had an excellent night," says Matt. "We started at the footy.
"But our mates dumped us. We went in there for a while and they f-ken walked off to the car and left us. We've got about a four-and-a-half-hour walk home now."
________
See this as higher-res PDFs: