Top Drop
The pub crawl with a photographer and a dictaphone was a peculiarity of
Ralph
magazine and was supposed to appeal to local pride. This one in Darwin, 2001, was my first, and hasn't aged well, although I do remember it being a fairly dull evening.
This one
, in Subiaco, Perth, is a bit better. The photographer is
Mick Richards
.
________ 
From the air, Darwin looks small and dark, unless you fly in during the day, when it looks small and light. Appearances can be deceiving, but not in this case. Darwin is small and light (or dark), and from ground-level you can see that all the places to drink are conveniently close together. The only confusing issue is that some time during Saturday night, I say the following sentence into my tape recorder: "Over there is a humanahumana."
8.40pm
Lizards Outdoor Bar & Grill, Top End Hotel, cnr Daly and Mitchell Sts
Lizards has gone heavily for the outback feel, with corrugated iron nailed to the bar, the end of which is made up of gigantic rocks. At the end of the room  is a big screen showing rugby union, and a smaller one showing AFL. I ask a big local called John which one he's watching.
"Ah, a little bit of both, mate."
"Darwin's really relaxed," says his girlfriend Caroline, a Pom. "Everyone's friendly."
There isn't much happening here, though. Just a lot of relaxed, friendly people, either watching two sports at once, or eating large pieces of meat in the dining area.
9pm
Mitchell St
Even at 9pm, Darwin is very warm. Mitchell St is filled with chilled-out couples. The only people who aren't relaxed are the busker, frantically strumming his guitar; and me, worried how "off" this town is going to go.
I pass the Raffles Bar in the Carlton Hotel, where two peop,e are on a stage, playing to three people at a table.
9.10pm
Hog's Breath Café, 85 Mitchell St
I quickly realise this a café, not a bar. I leave.
9.11pm
Shenannigans Irish Pub, 69 Mitchell St
Unlike most such people with a licence to savage you, the doorman is not fake-friendly: he really is friendly. He is nice enough to tell me to come back in an hour when someone's inside.. "Everyone's having dinner at the moment," he says.
9.13pm
Rorke's Drift Bar/ Café, 46 Mitchell St
The big beer garden to the side is full of people… Eating dinner. This piece is turning out to be "Going Out For a Nice Meal in Darwin".
9.25pm
Victoria Hotel, 27 Smith St
To kill time, I sit in the Vic with a gigantic jug of beer sold to me by a small, pretty barmaid. I don't think I can drink it all, but I'll have a go. I've nothing else to do. The Vic is quiet and orderly, which is annoying. In the corner, an old bloke shouts, "You've lived here for 47 years, and you still can't speak English!" at another old bloke. Silence descends again.
10.45pm
Mitchell St
With the contents of the beer jug now inside me, I try again. A glance inside the Carlton Hotel reveals there are still two people on the small stage – now playing to nobody.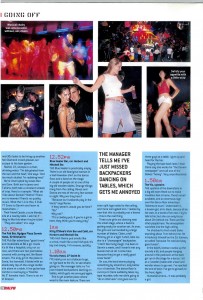 10.46pm
Hippy Club, Top End Hotel, cnr Daly and Mitchell Sts
Finally, a busy place packed full of young people. There are semi-psychadelic drawings all over the walls and a five-sided pool table. Some tables are attached to naked female mannequins, painted blue. Which is good, obviously.
Jocelyn, 22, is a sweet blonde wearing a tight white top and a disappointed expression. "Are you here for the swimsuit competition?" she aks. This is good news. "I entered, but I went out in the first round." This is bad news. "The next round is at 11." This is good news again.
At 11.25, the next round of the swimsuit comp starts. In the 10 minutes leading up to it, the male:female ratio has miraculously become 99:1, and the Hippy is packed to critical levels.
Seven girls in little red crop-tops and white shorts come out onto the stage. They do a small routine. It goes down well. One of the girls shakes her tiny arse in the face of a guy at the front. He looks pleased. The girls go off again.
No-one was wearing a swimsuit, which probably doesn't matter much. I can't tell who's made it to the next round, but that's in an hour, and I have to get out before my ribs cave in.
11.40pm
The Lost Arc, 89 Mitchell St
The Lost Arc is a wine bar, not a pub. It's dark and busy, although thankfully less busy than the Hippy Club. At least I can move my arms and breathe in. On the dance floor, a guy wearing dirty trainers and a ponytail is honouring Kylie's "Can't Get You Out of My Head" in his own, special way. There's a scrum at the bar and a few people at high tables, on which red candles flicker.
It's a slightly smarter, older crowd here, but like every other place, the dress code is very loose, and there are fare more men than women. Bored Jim looks at the dance floor as though babes might suddenly appear on it. "I've never been here before. I'm only here because it's free to get in."
So is everywhere else, I point out.
"Yeah."
11.50pm
Mitchell St
The centre or tow is now reassuringly full of drunk people. The busker is still strumming at the same insane pace he was an hour and half ago, but now two pissed blokes crouch nearby, watching him closely.
11.52pm
Shenannigans Irish Pub, 69 Mitchell St
Shenannigans has wooden booths full of drinkers down one side, a long wooden bar, a little wooden dance floor and a wooden stage. Not far above my head are wooden beams. The place smells of perfume and sweat, rather than wood.  I've heard Shenannigans is a meat market, but of course, no-one here will admit it.
Tenil and Nikki are in the corner near the dance floor. "I come here because it's a great place to meet everyone," says Nikki. "And the bar staff are really friendly and the service is quick."
What are Darwin guys like?
"Really good," she says with a smile. "There's a lot of them."
On the dance floor, a pretty girl called Kaylene is dancing while about seven guys watch with undisguised interest. She says something possibly devastating and accurate about Darwin, but is drowned out by a horrible crash as the band starts playing.
It's at this point that I say, "Over there is a humanahumana." I still have no idea why, but I'll keep thinking.
12.10pm
Rorke's Drift Bar/ Café, 46 Mitchell St
The place is now half-full of people singing along to Neil Diamond's "Sweet Caroline". When they stop, they sing along to The Monkees' "I'm a Believer" (also by Neil Diamond). Up on a stage in front, a DJ in his mid-30s looks to be lining up another Neil Diamond crowd-pleaser, so I escape to the beer garden.
Rachel, 22, slumps in a chair, drinking water. "I'm dehydrated from the sun and the heat," she says. "And too much alcohol. I'm radiating heat."
We're interrupted by locals Ben and Sam. Both are in jeans and T-shirts; both talk in a constant stream of crap. Here is a sample: "What do I like about Darwin? Nothin'! There are no women! There's no quality of music. What the f-k is this, S Club 7? Come to Darwin and learn to masturbate…"
Their friend Cassie, a cute blonde, sits at a nearby table. I ask her if they're like this when they're sober.
"They are sober," she says.
12.50pm
The Pub Bar, Rydges Plaza Darwin Hotel, 32 Mitchell St
The Pub Bar advertises "good times" and mudslides at $6 a go. Inside it's lit like a hospital, only not as nice, and there are two pool tables covered with jarring red Jim Beam covers. The only girl in the place is Sonia, the barmaid. A bloke with an absolutely top-of-the-range mullet sits alone at a table. A live guitar/ sax combo is overlaying a "Mambo No.5" karaoke track. There is an air of despair.
12.52pm
Blue Heeler Bar, cnr Herbert and Mitchell Sts
The Blue Heeler is practically empty. There is an old Aboriginal woman in a bad Hawaiian shirt on the dance flor, and band on the stage. A couple of people sit at one of the big old wooden tables. Strange things hang from the ceiling. Renee and Donna are two of the very few women in sight. Why are they here?
"Because our husbands play in the band," says Renee.
If they weren't, would you be here?
"No."
Why not?
"It's a cowboy pub. If you're a girl in here, they think you're easy prey."
1am
Kitty O'Shea's Irish Bar and Café, cnr Herbert and Mitchell Sts
This Irish theme pub smells like a urinal, much like real Irish pub. It's big and empty. I hit reverse, quickly.
1.10pm
Victoria Hotel, 27 Smith St
I've nearly run out of places to go, so I go back to the Vic, to see what's going on. The manager tells me I've just missed backpackers dancing on tables, which gets me annoyed again.
This is yet another place where wood is the main feature. There are even split logs nailed to the ceiling, and more corrugated iron. I realise by now that this is not a theme – this is the real thing..
Three cute girls are dancing near the small stage, where a band is getting ready for another set. As ever, the girls are surrounded by a large number of blokes. Claire, a tall, Pommy girl in a tight T-shirt, tells me she is a "champagne" backpacker. "I don't like living rough. I've been in Darwin a week and I haven't met any Aussie men at all. I come here because they've got a really good cover band."
On cue, the band starts playing something by silverchair, only better than silverchair. The dance floor is swamped. Claire suddenly takes my tape recorder, tells me she's going to "do an interview", and goes over to three guys at a table. I give up and head for the bar.
Playing the tape back later, I hear Claire say she works for the "Darwin newspaper" and calls one of the blokes "honey". Very unprofessional.
1.50am
The Vic, upstairs
The upstairs of the downstairs is a big old room fitted out to make travellers feel at home. There's email available, and an enormous sign over the dance floor advertises "Adventure tours". Underneath it, a buxom girl, all in black, dances all on her own, in a world of her own. I try to talk to her, but she can only focus about 2m behind me. There are few other people here. The atmosphere vanishes into the high ceiling.
I'm shocked to find a bald bloke standing about 7cm behind me. He introduces himself as the DJ, Iceman, so called "because I'm cool and play good tunes".
In the booth, Iceman cranks up the sounds a bit, and people hanging around in the poolroom at the back get up on the stage for a dance. I sit at a (wooden) table with a beer and wonder where to go next. I've reached the end of town. I've got to go back to the front. Again.
Humanahumana… It was probably a girl.
________
See this as higher-res PDFs: