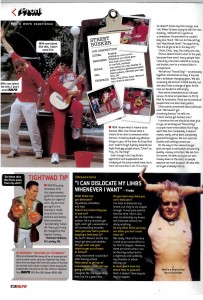 The epitome of
lad's mag
naval gazing, where one fictional character (an idiot intern) joins forces with another (a genuinely awful Elvis impersonator) to go downton and busk. I was somewhat daunted by the prospect, which is probably clear. Youth, eh? Written a long, long time ago…
________
NOW I know what it means to be famous. Well, now I know what it means to be next to someone who's famous. It means people say obvious things to you, all the time. As Crap Elvis and I walk through Sydney towards our Hyde Park gig, people shout, "Elvis! or, "Hey, it's The King!"
Even though I am Crap Elvis's apprentice and supposed to be studying at his jump-suited knee, he is more nervous than I am. For a start, he doesn't know any Elvis songs, and I do. When I'd been trying to talk him into busking, I offered him a guitar as a sweetener. He admitted he couldn't play one. Much. "We can do 'Hound Dog' and 'Heartbreak Hotel' he says firmly. "But it's all got to be in the key of E." Christ, Elvis, I say. You really are crap.
Elvis is determined to start in the park because there aren't many people here. I stand by a fountain, behind an empty red bucket, next to a musical idiot in a stupid suit.
We belt out 'Hound Dog' — occasionally together, sometimes on-key. It sounds like a bulldozer changing gears. We ask a passing old woman if she'll donate, but she also finds a change of gear. At the end, our bucket is still empty.
Now we've rehearsed at an intimate venue, it's time to head down to Pitt St Mall. At lunchtime. There are hundreds of people here, but also many police. Elvis seems concerned about Jailhouse Rock. "We haven't got a busking licence," he tells me. "l don't wanna get busted, man."
I convince him we should at least give it a go, so we bang out 'Hound Dog' a couple more times before The King's spirit fails him completely. It doesn't matter, really; we've been completely ignored throughout. We turn over the bucket and nothing comes out.
On the way to the nearest burger joint, we spot a real busker strumming quietly, money at his feet. We ask him his secret. He tells us to put our own money down at the start, so people assume we must be good. He also tells us to get a bloody licence.
________
See this as a higher-res PDF: