How to Bluff Your Way to Stardom
Before the 2003 World Cup I was asked to put together "something funny" for ACP's
Inside Rugby
magazine. This was the result.
________
This is just like…
Bluff your way through any match by casually referring to these famous incidents. 
1995 Rugby World Cup semi-final
New Zealand 45 England 29
Sounds like a reasonable result to me.
Yes, but a bloke called Jonah Lomu scored four.
Oh, yeah, right.
Lomu announced himself on the world stage by trampling all over England's nice young men. England wing Tony Underwood didn't help matters by winking at Lomu during the Haka, and was later smashed practically into the crowd during one of Lomu's runs.
Couldn't they stop the man?
Could you? Strapping fullback Mike Catt was memorably stampeded over as Jonah barrelled towards the line. Afterwards England captain Will Carling moaned, "He's a freak and the sooner he goes away the better."
1999 Rugby World Cup semi-final
France 41 New Zealand 33
Good side are they, France?
It was one of those days when French bodies and minds turned up together and on time. At half-time, seven points down, and playing a Kiwi side such hot favourites the bookies laughed in your face, it seemed all over. Instead, French forwards had a massive second 40, allowing the backs to twinkle around their muscle-bound equivalents.
What happened next?
The All Black coach resigned a week later, then New Zealand tilted up and slid quietly under the sea in despair.
What else?
Some reckon it's the greatest match ever. On the other hand…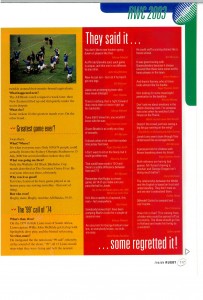 Greatest game ever?
I was there.
What? Where?
It's what everyone says. Only 109,874 people could actually fit into the Sydney Olympic Stadium on July 15 2000, but several million reckon they did.
What was going on, then?
Only the Wallaby-All Black Bledisloe Cup match described as The Greatest Game Ever. By everyone who was there, obviously.
Why was it so good?
Ten tries, Lomu at his best, game played at an insane pace, see-sawing scoreline – that sort of thing.
But who won?
Rugby, mate, rugby. And the All Blacks, 39-35.
The "99" call of '74
What's that, then?
On the 1974 British Lions tour of South Africa, Lions captain Willie John McBride got fed up with Springbok dirty play, and the biased refereeing.
So what, mate?
He instigated the the notorious "99 call", whereby at the sound of the shout, "99", all 15 Lions would stop what they were doing and belt the nearest Springbok. "There was method to the madness," said McBride. "You see, there were fights breaking out all over the place and some o' me lads were running 100 yards just to get a kick at a South African – retaliation, like. Now that was no use to me. If someone was fighting for 10 minutes that was 10 minutes he wasn't playing rugby. The 99 call ensured everyone had a chance to settle their grievances and be ready to play 30 seconds later. Even a South African referee, so I reasoned, couldn't send off all 15 of us."
So what happened?
The Lions beat the Boks for the frst time ever on home soil, then set about dismantling their hotel at the after-party. Told the police would be called, McBride replied, "These police of yours – will there be many of them?"
1995 Rugby World Cup final, 24 June 1995
South Africa 15 New Zealand 12
Word to use: Emotional.
Eh? Why?
South Africa could play international rugby again, they won the World Cup on home soil, Nelson Mandela out of the pokey…
Good match?
Not really. No tries, anyway. The outplayed All Blacks still claim… well, never mind what they claim. It was emotional, alright?
What else?
Oddly, the lasting image is not a tackle or try, but Nelson Mandela and Springbok captain Francois Pienaar trying to outgrin each other after the match. Probably because Nels got given a replica Bok top to take home with him. Not cheap, them.
Jannie de Beer's five drop-goals in a match
So what?
It's a world record. During the 1999 Rugby World Cup quarter-final, the Springboks binned all that flashy running stuff to grind the bejeesus out of the English pack. Tactic number two was to give the ball to fly-half Jannie de Beer, who didn't miss all day.
Who won?
South Africa, 44-21. "Judge me on the World Cup results," said new England coach Clive Woodward. To which, after the match, came the reply, "You're an idiot."
THAT tackle
Tackle? What tackle?
The one Wallaby George Gregan made on All Black Jeff Wilson to save the Bledisloe Cup match in 1994.
Big bloke, is he? Bit of a monster?
They don't call him Mighty Mouse for nothing – he was about the smallest guy out there. He hit Wilson hard enough, though. Young Jeff collected a pass, beat three and dived for the line, only for Gregan to meet him in mid-air, like a, er, clap of doom, jolting the ball free. Celebrating Kiwi fans had to stop celebrating and sit back down. Five minutes later it was all over, the Wallabies winning 20-16. That tackle.
Best try ever?
The best try ever.
Yeah, says who?
Says old people who still think the best rugby is played by Welshmen with huge sideburns and socks round their ankles. It is a good try, though.
What happened?
It was a wet and windy afternoon at Cardiff Arms Park in 1973…
Sounds horrible.
… Barbarians against the All Blacks. Welshman Phil Bennett began a movement from inside the Barbarians' own quarter, side-stepped his way past two New Zealand defenders then passed it on through John Pullin, John Dawes, Tom David, Derek Quinnell and eventually to Gareth Edwards who beat the cover defence and scored a magnificent try. The Ba-Bas won 23-11.
All with their socks down?
Yes. And long hair.
Campese's pass
Rare sight, was it? I'm sure he made more than one.
Not as bad as this. In the deciding test at the Sydney Football Stadium between Australia and the British Lions, the score stood 12-9 to the Wallabies. David Campese caught a drop-goal attempt near his own try line, grounded it for a restart at the 22-metre line, and everything was fine.
Was it really?
No, it wasn't. Instead of grounding it, he decided to attack, and threw the ball to full-back Greg Martin, who was so amazed he spilt it. Welshman Ieuan Evans darted in and scored for the Lions.
What happened next?
The Lions won by a point. Years later, and even after endless brilliant decisions and plays that did go his way, old Campo still hasn't lived that one down.
________
The A-Z of Rugby
A
All Blacks. A group of large gentlemen with funny vowels and terrifying tribal rituals. Most often found in a sentence that ends "…crushed by the All Blacks".
Advantage. A law accidentally left in the change room by the referee, along with his common sense and spectacles.
Analysis. Where ex-players describe professional fouls with great knowledge and barely restrained enthusiasm.
B
Blood bin. Rebuilding area for injured players. Like the worst scenes of MASH with added swearing.
Burst. Darting run into a gap that gives backs wet dreams.
Bullocking. Effective, ugly run by a forward when his blood is up. Sheer momentum means it takes five tacklers to bring him down.
C
Code. Secret plays patiently drummed into the big thickies involved in line outs, who ignore it anyway in favour of a fight.
Conversion. A place kick turned by the fly-half into a three-act play plus curtain calls.
D
Deathriding. Never offically acknowledged phenomenon, where second-stringers pray to God the team loses and that the guy in their position plays like Stevie Wonder before injuring himself.
Drugs. Of which rugby, a game featuring giant angry men, is entirely clean. Yes.
E
Engine room. Large blokes expected to carry the brunt of the team's fighting.
F
The French. Described invariably as, "mercurial", "moody", or "bloody vicious". The team will play one match per tournament like gods, and the rest moping around in an opaque Gallic funk, gouging people, while the baffled coach smokes 50 Gauloises a minute. We'd try to figure them out, but we don't care.
G
Garryowen. Sounds like a member of a boy band, but actually a very high kick. Members of boy bands should be kicked like this.
Gouging. Where a dirty great thumb is used to gently explore the eye socket of an opposing player. Causes agonising pain, possible blindness, and citing by the video referee.
H
Hand-off. When a player attempting a tackle finds a large unwelcome paw pushing his face in.
Haka. Pre-match entertainment provided by the All Blacks. It carries an ancient message of welcome. Or is that wrong?
How's your father (a bit of). Term used to describe an ugly brawl and multiple stretcherings-off.
Hospital pass. One that that instantly puts the recipient in mortal danger.
I
Italy. Emerging rugby nation. Described as "always likely to spring a surprise". In practice never actually springs a surprise.
J
Japan. As a rugby playing nation, proof that God does have a sense of humour.
K
"Kick ahead, any head." Old battle-cry of the Springboks.
Knock. Manly way of describing an injury that would hospitalise a normal person.
L
Late. As in, "That was a bit late." Commentator's description of a forward's assault on a player who has long since got rid of the ball and is peacefully minding his own business.
League. As in rugby league, a one-dimensional tackle marathon played by cavemen with spring-loaded thighs. If you're reading this looking for "footie" and can't do up your shoes unaided, you're in the wrong place.
M
Mark. Panic-sricken cry made by full-back as 700 kilos of forward thunder towards him. Play stops. Sometimes too late.
N
Number eight. The bloke at the back of the scrum who starts fights, drinks the most, and goes on suicide runs up blind alleys.
Neck. The part of the body prop forwards are born without.
Niggle. Polite term for the illegal acts forwards are doing to each other in the scrum.
O
One-metre gap. Mythic space between opposing players in a line out.
Offside. Complex, ever-changing series of laws ignored by the players, if not by the crowd.
Old. Adjective for any play the TV commentator has managed to learn over the years. Hence, "That's the old reverse pass, there."
P
Punt. What fly-halves like to do to each other all afternoon, while everyone else gets sore necks.
Q
Quantity. What a prop forward has to make up for lack of quality.
Quickie. Either an instant throw in, or something offered to a barmaid by a flanker.
R
Rucking/stomping. A hideous raking stamp, that if made off the pitch would involve 30 days inside and strong words from the judge.
Rolling maul. An old cornerstone of northern hemisphere rugby. Audiences-past could look forward to many a winter afternoon watching England and Scotland trundling up and down the pitch like a giant crab. Often compared to…
Running rugby. Risky, passing-style entertainment, used in the southern hemisphere so those watching wouldn't nod off.
Reverse pass. Tricky where's-it-gone-fatty manoeuvre attempted in first 10 minutes by scrum-half, who spends the next 70 being battered all over the paddock by aggrieved forwards.
Rugger. Phrase used by a bugger.
S
Sidestep. In pros, a clever tackle-avoiding move; in amateurs, a short-cut to multiple hernias and a groin like old string.
Sin-bin. A holding pen where sidelined psychopaths headbutt hard surfaces.
Shoe-pie. The unexpected connection to the face of a size-15 lace-up. Hence, "He had an express delivery of shoe-pie."
Springboks. The South African team. Known for its friendly, easy-going nature and widespread popularity. Possibly.
Slaughter. What happens to Japan in World Cup pool matches.
Spear tackle. Dangerous challenge, where a player is grabbed by the balls and his head rammed into the ground.
T
Tackle. What All Black Wayne Shelford lost part of during a match against France in 1986. Although his scrotum was ripped and a testicle dropped out, Shelford continued playing until forced off after 70 minutes – with a separate injury. The French won.
Terriers. Fond nickname for scrum-halves, because they are short, yappy and leave their owners in the shit.
Terrible. Players somewhat short of international standard. Examples include Wallaby Jack Young in the '30s, who was known to make lightning breaks without the ball; and everyone from Canada.
Touch judge. Tell-tale and killjoy, desperate to inform the ref about the horrible things he's just witnessed in the ruck.
U
Urban myth. Players bravely attempt to "pop back" a colleague's dislocated leg, but snag his testicle. Exactly where and when did this happen, again? Claptrap.
V
Video replay. Opportunity for TV directors to repeat violent on-pitch abuses in remorseless slow motion, causing parents to cover their children's eyes.
W
Word. What the referee has with a hulking forward after he's battered an opposing fly-half to death.
X
X-rated. Description of a challenge designed to put a player in the mortuary.
Y
Yakka. Hard work. What forwards put in to gain yardage the backs immediately lose again.
Z
Zinzan Brooke. All Black great, and big help to journos compiling A to Z lists.
________
Positions and Plays
Wingers
Come in two handy sizes: 1. Skinny playboys who stand a kilometer away from the action, straining to see who's winning the fight between the forwards; 2. Giant, quiet, religious types who operate like tanks with two forward gears and no steering wheel, and like rucking over the top of full-backs.
A winger's job is to "score with the ball", but often get that confused with "being tackled with the ball".
Props
Frightening carnivores who operate as a meat wedge at the business end of the scrum. They are known for drinking an inhuman amount of beer, eating fly-halves as a small snack, and carrying scars on their ears, faces, and, strangely, knuckles. The professional era suddenly required them to run and pass the ball as well, creating the welcome spectator sport of  "laugh at the puffing fat man".
Fly-halves
The brains of the team, this often involves issuing detailed instructions to the eager backs, before panicking at the sight of opposing forwards and kicking wildly into touch.
Scrum-half
Tiny, big-mouthed link between forwards and backs. Known for being a useful extra referee, trying it on with people five times their size, or lying on the ground receiving treatment. See also Gregan, George.
Locks
Ogres masquerading as men, often found elbowing people in the face or trampling people enthusiastically. Required to act like Circus Oz in the line out. If bored, can resort to concussing their own players.
Flankers
Frustrated men, who might be forwards and might be backs, but aren't either, and take it out by tackling everything in sight until told the match is over.
Ruck
Where up to 20 people pile on top of the tackled player. The referee waits until said player is seeing a tunnel of light and beckoning grandparents, then blows the whistle.
Maul
The tackled player stays upright while everyone competes to get the ball off him by peeling back his fingers. At the first snapping sound, the referee blows up.
Rolling maul
Same as above, but with a far higher degree of movement and fouling. Mainstay of English rugby for years, with footage often sold as videos for insomniacs.
Line out
A throw in, where players get lifted as high as possible to avoid the elbows flying in their direction, while dishing it out themselves.
Scrum
A pushing game, designed to give the backs a chance to catch their breath and comb their hair, and the forwards to heavily beat each other. Things go on in scrums that no-one is prepared to talk about. Terrible things.
________
See all this as higher-res PDF: