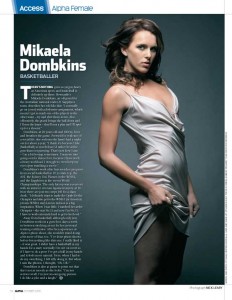 I interviewed basketballer
Dombkins
in 2008, for
Alpha
magazine. The photograph is by
Nick Leary
.
________
THERE'S NOTHING quite so jargon-heavy as American sport, and basketball is definitely up there. Newcastle's Mikaela Dombkins, an off-guard for the Australian national under-21 Sapphires team, describes her role like this: "I normally go on [court] with a defensive assignment, which means I get to mark one of the players in the other team – try and shut them down. Also, offensively, the guard brings the ball down and I'll run the lanes – they'll run a play and I'll spot-up for a shooter."
Dombkins, at 20 years old and 180cm, lives and breathes the game. Pressed for evidence of a social life, she reckons she hasn't had a night out for about a year. "I think it's because I like [basketball] so much that I'd rather be at the gym than out partying. That's just how I am – I'm a bit boring sometimes. I'm more into going out for dinner but, because I have such a heavy workload, I struggle to even keep my eyes open watching a movie."
Dombkins's work ethic has seen her progress from social basketball at 10, to state rep, the AIS, the Sydney Uni Flames in the WNBL, and the Sapphires at the recent World Championships. The only hiccup was a year out with an anterior cruciate ligament injury, at 16. Now there are just two steps left for a slam dunk.
"I defi nitely want to make the Opals for the Olympics and also get to the WNBA (in America). (Aussie WNBA star) Lauren Jackson is a big inspiration. When I was little, I watched her at the Olympics – she was No.11 and now I'm No.11. I have to work extremely hard to get to her level." Away from basketball, although only just,
Dombkins works in a gym four days a week, in between studying at uni for her personal training certificates. After her experience at Alpha 's photo shoot, she wouldn't mind doing a bit more of that, too. "I've done photo shoots before but nothing like this one. I really liked it – it was great. I didn't have a basketball in my hands for a start; normally I'm out on court so if I have to do a pose I've got a ball in my hands and it feels more natural. Here, when I had to do my own thing, I felt silly doing it. But when I saw the photos, I thought, 'Oh, OK.'" Dombkins is also at pains to point out that she's not as moody as she looks. "I'm not serious at all. I'm just an easy-going person. I do like a joke and a laugh."
________
See this as a higher-res PDF: