Town of Good Hope
News Ltd's paper
The Australian
bought my run-down of Cape Town in about 2005. It produced a piece markedly different to the
Ralph version
…
________
A thousand metres in the air, Table Mountain's summit of broad, ordered wilderness, offers Cape Town's best view. More altar-shaped than table, the mountain dominates the western side of the city. On a clear day you can see, well, everything. Directly below is the neat capsule of central Cape Town, with its little clump of genuine skyscrapers hemmed close about by red-roof suburbs. Beyond are the open arms of the harbour walls and the dusted blue apron of the Atlantic, punctuated by Nelson Mandela's old Robben Island prison. Fixed to the distant horizon, giant freighters and tankers inch their way towards shelter.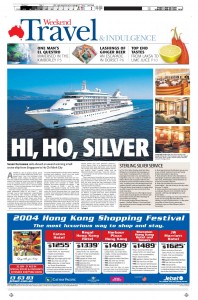 The town centre is remarkably relaxed; unlike many other African cities it's easy and safe to walk around. And as locals are at pains to point out, Cape Town and Johannesburg couldn't be more different. The latter is chaotic, crowded and crime-ridden; Cape Town is smaller, more beautiful, less aggressive.
The atmosphere is an odd mix: part western, part African. Here are well-stocked shops, museums and excellent restaurants; here also, people stand in the traffic selling peaches or "50 black bin bags for R20", offering work or simply begging. The signs of corporate affluence taken for granted in most western cities can disappear for entire blocks. Street stalls sell anything from house phones to music and supposedly local handicrafts. But many of these stalls are rented out in bulk by Zimbabwean entrepreneurs, staffed by Zimbabweans and selling items made nowhere near South Africa.
Best afternoon
The Victoria and Alfred Waterfront is the historical pride of Table Bay. Unusually, the spic and span marina, with its airconditioned shopping mall, harbour cruises and sheaf of restaurants, co-exists with a fully functioning dock. Tied up at the closest wharves is a fleet of well-maintained fishing boats, and tankers heave-to not far away.
At lunch you could choose a stein of pure cold German beer at the Paulaner Brauhaus and listen to a jazz band or African singers performing in the shade of the restored clock tower. Or whack into a savoury pancakes from Harrie's Pancakes next door.
Nearby, Two Oceans Aquarium features an interesting selection of marine life from both South Africa's native oceans (Indian and Atlantic). Giant spider crabs crouch in the semi-dark, arrayed in grisly alien ranks. A few steps further, thick moray eels jerk themselves from coral grottoes like fanged questing socks. In a two-storey tank, hound sharks describe metronomic circuits, sliding with ghostly, dulled menace across the viewing windows.
Down by the Robben Island ferry terminal, fishermen unload big tuna hand-to-hand towards bins of iced water. In the basin small black harbour seals roll torpidly under the sun, one flipper jutting straight up, like a long goodbye.
Best beach
For one type of Capetonian experience, head west for flashy Camps Bay, where as one local observes, "It's all for show." The first car I see here is a Ferrari. On the well-tended sliver of palm-stitched beach, a scattering of canted orange umbrellas shield beautiful people against the wind. No-one bothers with the chilly Atlantic. Along the beach road, upmarket cafés and restaurants are a civilised counterpoint to the imposing bulk of Lion's Head. Hawkers have set up stalls on the street in front of them. Roaming "stewards" offer to watch your car for a tip.
Best eats
One of the best-known restaurants here is Blues. With its elevated position and balcony, this is where those under the orange umbrellas come for a wonderful, uninterrupted view of sunset over the beach. You can overhear them discussing property, fashion or business deals, while carving up the pan-seared ostritch teriyaki or Norwegian salmon blackened with cajun spice on caramelised pumpkin. At the top of the steps a bored – and armed – security guard makes sure the scene remains undisturbed.
Best prison
These days, Robben Island is a bracing 40-minute catamaran ride across a beautiful bay to a World Heritage Site. But for prisoners, until just 10 years ago, it was a 5km shark-plagued swim from freedom. At this jail, Nelson Mandela spent the bulk of his 27 jailed years as a category A, high-security inmate.
Ex-prisoners conduct tours, graphically describing overcrowding and oppressive regulations, not to mention their own stories of mistreatment. But hundreds of apartheid victims rose above it to complete an education, maintain their sanity and effect a change in the system of government that put them there.
On an anonymous row is the sad little cell, big enough for a cot, a bucket and a stool, where Mandela spent 18 years. In the eye-damaging glare of a small lime quarry beyond the prison walls, he and other political prisoners mined lime with their hands, and taught an informal university on breaks. Prison guards refused them sunglasses, ensuring that Mandela, for one, has endured cataract operations, cannot tolerate flash-photography, and cannot cry.
The bus-tour of the island is a weird, interesting mix of beautiful vistas and landmarks of institutional suffering. With Table Mountain in the background and springbok trotting across the road, you pass the house of activist Robert Sobukwe, imprisoned here for so long without crime or charge that he went out of his mind; and the church for the old leper colony, which contains no pews, as worshippers found it too painful to sit.
Best Tasting
Drive east out of Cape Town, along the main N1, and within the hour you are surrounded by lush fertile valleys, the gaunt folded relief of the mountains, and the irrigated grids of vineyards.
The large estates in Paarl, Franschoek, Helderberg, Wellington and Stellenbosch are justifiably famous, but the smaller ones can provide an equally fulfilling and more intimate experience.
At the lesser-known Seidelberg Estate in Paarl, for example, you are led through a tasting of six generally excellent wines by someone who knows what they are talking about and is prepared to venture an opinion. The estate also has a restaurant, De Leuwenjagt, that will make you a picnic so you can eat in the shade of a tree and gaze at vine-rows distantly corralled by the conspicuous uplands.
Best tour
To fully appreciate the damge done by apartheid, there are organised minibus tours of the townships. These trips, organised by those living in the townships, are invaluable for placing Cape Town in context, and very safe. See this anonymous scrubland? That's land once reserved for whites-only, where it is still far too sensitive to build. How about this patch of grass and rubble? It's District Six, a once thriving vary-coloured community, bulldozed into extinction by the apartheid regime.
When District Six was declared whites-only in 1966, over 60,000 people were forcibly removed from it, their homes and streets disappeared. The District Six Museum is a poignant attempt by an entire locality to rediscover itself. Covering the floor is a street-map of how it was; people have written their names in the spot they used to live. Lining the walls are photos, artefacts, street signs – anything that will help people remember, or not let them forget.
Nearly four million people live in Cape Town; 2.4 million of those in townships. On the face of it, they are a picture of endless poverty and suffering; a jumble of shacks cobbled-together from scrap. But there is a system here. The Government has pledged a house for every citizen by 2009 and makes it relatively easy to purchase your own accomodation. The majority of these shacks belong to those on a waiting list. Sooner or later they will all have, on the site of their shack, their own house, with running water, electricity and an indoor toilet.
The tour shows you functioning if overcrowded schools, invites you into soup kitchens that stop children going hungry, and colleges where students are encouraged to start businesses so they can employ others. There are surprises such as Vicky's B&B, slap in the middle of the Khayelitsha coloured township. Opposite is a shebeen, one of those infamous shanty pubs with an alcoholic and violent reputation. This one is cool and quiet, contains a well-maintained pool table, and as the guide explains, "Anyone who fights is banned for life."
Best ocean drive
On a sunny day, track the mountain range south into Cape Town's hinterlands, all the way to the Cape of Good Hope itself. Once you've manoeuvred your way out of town, the road swings right at Muizenburg and clings to the coast of False Bay, through Kalk Bay and Fish Hoek, to historic Simon's Town. The latter, with its gabled whitewashed buildings and tidy row of shops, is like a self-conscious re-creation of 1950s England, albeit one buttressed against a chunk of mountainside, and lashed by near-constant gales.
Just past town, Foxy Beach is reserved for a colony of tiny African Penguins. A wooden boardwalk takes you down to the beach, where they cover the rocks and boulders like spreading ink, march purposfully up the beach to nesting sites, or stand spraddle-legged in the teeth of the wind.
Best end of the world
At the tip of the continent, R30 gains you access to the Cape of Good Hope Nature Reserve. At half-speed you progress through a wild landscape sewn with fine, tough heather and reeds, windows rolled up against the burglaries of baboons. These apes sit carelessly in the road, grooming each other and showing the world their bottoms. Once, we brake to allow the measured passage of a bulky yellow-and-black rinkhals snake.
And then: the end of the world. It offers a gift shop, a funicular railway to the old lighthouse, and a restaurant protected by an electrified baboon-fence. Outside, staff on smokos feed tame red-winged starlings, and coax tiny darting field-mice from rock crevices with crumbs.
After lunch, skirt the funicular and try the stiff and windy climb to the lighthouse. Then, because it's there, take the path along the knobbly dragon's-back, where the granite cliffs give best to the sea and the Indian and Atlantic Oceans finally cleave together.
________
See this as a higher-res PDF: